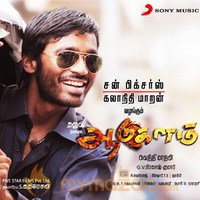 Aadukalam Review
by

MyMazaa.com
---
The film starts on the back drop of Madurai with cock fights. Karuppu (Dhanush) owns a rooster and attends a cock fight with his team named Vettakaran with the Ratna Swamy team. Karuppu (Dhanush) comes across Irene (Tapsee) on a sudden incident and falls in love with her. His team head doesn't want Karuppu (Dhanush) to participate in the fight but Karuppu (Dhanush) without listening to his words takes part in the fight and wins Rs 3lakhs. By having grudge on Karuppu (Dhanush), the team head starts giving trouble to him by arising clashes with his friends and also misuses the amount of Rs 3lakhs, where the hero plans to start a business. One fine day Karuppu (Dhanush) comes to know that his team head is the main reason for all the happenings. What did Dhanush do? How he fights with his team head? Will he marry Tapsee finally? Need to be watched on silver screen.
Dhanush performance is outstanding in the role of Karuppu. His mass appeal is sure going to appeal the mass audience.
Tapsee's made her mark with her debut and sure going to see heights in Kollywood. She looked apt for the role of an Anglo Indian.
Kishore, Karunas and G. M. Kumar are good at their respective roles.
Director Vetrimaran narration and packaging style are unique. Characterization needs special mention as they don't oppose themselves during the course of the movie. The film is like poles apart when compared with the first film.
Music given by G.V Prakash is outstanding in the film. To tell frankly the back ground score saved the film a lot.
Cinematography by Velraj is well done, as it brought life to the surroundings.
On the whole, First half of the film is outstanding and the second half moves on a slow note but impressive. Aadukalam is a good entertainer for this Pongal. The film will surely hit the mind of the audiences and will stand as a hit in 2011. Especially for Dhanush's fans the film will be like a plate full of Pongal.
Bottom Line: Enjoy Pongal with Aadukalam.