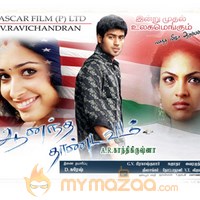 Anandha Thandavam Movie Reviews
Anandha Thandavam Review
by

MyMazaa.com
---
Sujatha may have left the world. But his legacy still continues. The man who brought freshness in Tamil cinema with his pen holds a unique place in Tamil literature as well as the tinsel town.
Joining the long list of Sujatha's work being recreated on silver screen is 'Anandha Thandavam'. Unlike his sci-fi or thrillers, the movie is laced with romance and the travails of a youth struck by a cupid's arrow. Director Gandhi Krishna, who came out with 'Chellame', has brought to life Sujatha's popular novel "Privom Sandhippom". It chronicles the journey of a young man from Amba Samudhiram to America.
No doubt Gandhi Krishna has consciously chosen not to make any cinematic compromise and retain the essence of the novel. However in achieving the mission, he misses out providing necessary pep and life in the screenplay. 'Anandha Thandavam' leaves an impact only in parts thanks mainly to Sujatha.
Raghupathy (Siddharth) is an engineering graduate in Amba Samudhiram. He decides to commit suicide having failed in his romance. Flashback reveals that his father Govindaraj (Kitty) works as engineer in a dam in the area and Raghu falls in love with Madhumitha (Tamannah), a spoiled brat and daughter of Govindaraj's boss.
However his father suspects the whole idea behind arranging a hurried marriage of his son with Madhumitha. As expected by him, Madhumitha's father changes his mind and in stead marries his daughter with Radhakrishnan (Rishi), a rich man, who runs business in USA. Dejected by the betrayal, Raghu decides to end his life. Eventually he gets saved. His father gives his courage and sends him to USA for higher studies. He comes across Madhumitha again in USA. And the old romance is rekindled. Meanwhile, Rathna (Rukmani), who was born and brought up in USA, falls for Raghu. What happens eventually in this interesting triangle of love is the climax.
Siddharth as Raghu is ok. But he struggles a lot especially in emotional scenes. Tamannah's characterisation is more puzzling. She is shown as spoiled brat and an idiot in the movie. Also the onscreen chemistry between the lead pair is sorely missed. Kitty makes a comeback to acting after a brief while only to leave an impact.
But the scene-stealer is Rukmani. She enthralled everyone playing a blood role in 'Bomallattam'. She continues her good run here too. The cast also include Five Star Krishna, dance master Raghuram among others.
Cinematography by Jeeva Shankar captures Amba Samudhiram well. But G V Prakash's music is disappointing.
Much was expected from 'Anandha Thandavam'. Unfortunately it begins as a good ride only to lose its way and end in clichéd manner.