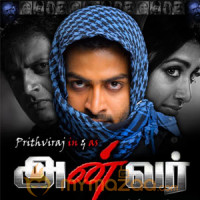 Anwar Tamil Movie Reviews
Anwar Tamil Review
by

MyMazaa.com
---
Anwar Story:
The film begins with a bomb blast that takes place in Coimbatore. In this bomb blast case Babu Sait (Lal) a local leader gets arrested by the special investigation officer Stalin Manimaran (Prakash Raj). Meanwhile, Anwar (Prithviraj) a muslim youth gets arrested while circulating Hawala money and will be sent to the prison and here he gets the company of Babu Sait and his team. In no time Anwar turns Babu's trusted and obedient right hand and Babu in turn helps Anwar to get bail. Anwar by this slowly gets attracted to the activities of him. Later coming out of jail, Anwar fixes a bomb in the police Headquarters and this will be noticed by Basheer Bhai (Sampath) who is the leader of Babu. Anwar will get introduced to him and Basheer Bhai selects him as a head for another dangerous series of bomb blasts. Anwar starts executing their plans, but he will be haunted by an unforgettable flashback which makes him to act completely opposite to the laid out design
Rest of the film ends with a totally twisted and thrilling climax, Whether Anwar does his next task and what was the past which is hunting him so badly.
Performances:
Prithviraj performed outstandingly in the role of Anwar. He looked stylish and also reminds us that he is the future hero like Mammootty and Mohanlal.
Mamtha Mohan Das gave okay performance as Prithviraj's love interest.
Prakash Raj like his other films is the star of the movie. In particular Police Station scene he excelled and performed it ultimately. He is the perfect suit especially for the role of Police officer.
Sampath, Lal and the rest of the supporting cast performed well on their boundaries.
Director Amal Neerad had succeeded to some extent but with having a strong story in hand the director should have concentrated more on story rather than stylish looks, outfits and walks. As the film has a sensitive theme he should have been much more careful with presentation. But Anwar is the best movie in Amal's career.
Music by Gopi Sundar is entertaining but most of the time, too much of noises are found irritating.
Cinematography by Satheesh Kurup looked stylish and during the bomb blast sequences, he presented in the best possible way. Action scenes are beautifully captured. Editing is appreciable.
On whole, Anwar is a Stylish film with Good Story but Weak Execution and presentation.