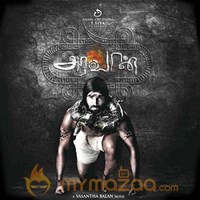 Aravaan Review
by

MyMazaa.com
---
Story:
A 300 years old period flick Aravaan takes off with, leader Kombodhi [Pasupathy] and his team of professional robbers, their main motto is to rob the richies of other villages that are not under their control. During an operation, Kombodhi happens to meet one more house breaker Varipuli [Aadhi], with in no time former joins Varipuli into his team, looking at his ease and expertise. Meanwhile Kombodhi discovers Varipuli's flashback. There starts a historical rivalry between kings of two villages and about the promise made by Varipuli to King [Vijay Chander]. However Varipuli wants to live his life happily and so marries Vanapechi [Dhansika]. What is the flashback of Varipuli? What promise did Varipuli make? What are the circumstances that made him marry Vanapechi?, will form the bottom line of Aravaan.
Performances:
Aadhi appears to be moved a bit high with his performance in Aravaan alongside Dhansika, who has killer looks with matured acting.
Swetha Menon has given a villainous presentation with her cunning looks that could be rendered better and could be given a length. Bharath and Anjali appeared in cameos, as demanded by the script. Pasupathy was apt to play Kombodhi and Archana Kavi could have been done better as Chimitti.
Technical Analysis:
Vasanthabalan has once again proved his direction mettle with Aravaan. Cinematographer Siddharth has captured locations very well to justify the period film.
Playback singer Karthik has debuted as music composer and got applauses for his work. Editing by Praveen.K.L and N.B.Srikanth, could have been handled better. It seems producer T.Siva has supported the team well.
Analysis:
Aravaan will be a signpost among the period films screened so far. Siddharth's cinematography was one of the highlights in the movie and Karthik's background was an added advantage to the slow paced direction by Vasanthabalan.
Final Verdict:
Go watch period flick Aravaan, for a fresh look.