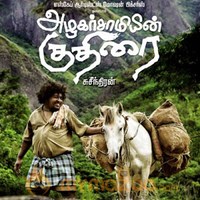 Azhagarsamiyin Kudhirai Movie Reviews
Azhagarsamiyin Kudhirai Review
by

MyMazaa.com
---
Azhagarsamiyin Kudhirai story:
The story of Azhagarsamiyin Kudhirai is set in a village called Mallayapuram which is located near Theni. The villagers in Mallayapuram had a belief that rain god will help only after their annual temple festival (Thiruvizha) is performed. Just like all the god festivals the deity (Azhagarsamiyin) is also taken around the village on a wooden horse. But suddenly the wooden horse goes missing which comes as a shocking news for the villagers. A group of villagers go in search of the wooden horse as the village is facing serious famine and poverty. Surprisingly they find a real white horse and starts believing that the horse is their savior. Meanwhile, Azhagarsami (Appu Kutty), a youngster in the neighboring Aagamalai village, gets ready to marry Rani (Saranya Mohan). On the day of marriage his horse goes missing and he comes to Mallayapuram village in search of his horse. Do the villagers and Azhagarsami find their respective horses?
Performances
Appu Kutty is a perfect fit for the role and we are sure that no one else could have played his role so perfectly.
Though her character in the film is limited, Saranya Mohan makes a breezy walk with applause.
Azhagan Thamizhmani as Panchayat president did a great job, while debutant Prabhakaran as rural youth made an impressive act. Devaraj, Saranya Mohan's dad is apt for the role. Ramakrishnan has made a noteworthy performance and his lover Devi played by Advaitha looks like a perfect village belle.
The guiding forces of the film are director Suseenthiran, dialogue writer Baskar Sakthi and music director Ilayaraja.
Director Suseendran has given a neat comedy entertainer as promised and is matches to the taste of all classes. His simple screenplay and the timing of the songs need special mention. Suseendran is one of the very few directors in Kollywood who keeps on improving with every film.
Theni Easwari Cinematography is an added advantage and the beauty of the village is brought out to the fullest.
Music by Ilayaraja fits perfectly.
On a whole, Azhagarsamiyin Kudhirai is a simple emotional and realistic movie which leaves us with a smile finally. This film is not a cup of coffee for the commercial movie lovers as there are no racy foreign locales or big action scenes. It is one of few films where content play a major role and it deserves praises just for that.
Quick Take: Perfect comedy entertainer!