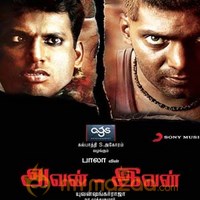 Avan Ivan Review
by

MyMazaa.com
---
Story:
Step brothers Walter Vanangamudi (Vishal) Kumbideran Saamy (Aarya) were born in the family of thieves. While Walter could not tread the path of his elders, Dandam Saaru becomes an expert thief. Their mothers quarrel with each other very often, but they remain united when it comes to attack others. Highness is the zamindar of the village. He keeps advising the family not to force Walter to turn a thief, as he has a lot of acting talent in him.
At this stage, cops take Walter to unlock a locker in a judge's house. But he could not open it. Later, Saamy opens it easily. During the course, while Walter falls in love with a constable (Janani Iyer), Thenmozhi, a college student (Madhu Shalini), traps Saamy. However, situation turns serious when the zamindar gets an illegal cattle transporter, who was taking it to an abattoir, arrested. What happens next forms the interesting part of the story.
Performance:
Vishal, who is known as an action hero, has given his best performance till date. Thanks to Bala for bringing his best out of him. Perhaps for the first time in the south Indian film history, an artiste worked all through the film with a squint eye. His expression of 'Nava Rasas' just after the interval is superb and it really needs a standing ovation. Even his expressions in the climax scene are extraordinary. Aarya has done complete justice to his role. Madhushalini and Janani Iyer are adequate. GM Kumar, who played the role of Highness, is to be complimented for his performance.
Technical:
Arthur A Wilson's cinematography is good. He has picturised the action scenes and songs well. Editing by Srikara Prasad is adequate. However, a few scenes in the first half could be chopped. Yuvan Shankar Raja has given mass tunes that suit the taste of Tamil audiences. Last but not least, it is Bala, who should be complimented for his efforts in bringing out the film. Like a crusher that squeezes the last drop from a sugarcane, he has literally extracted every drop of talent from Vishal. The screenplay, the narration and the directorial talents are extraordinary.
Remarks:
Watch the film for the expression of 'Nava Rasas' just after the interval bang and the climax scene and you will get a feel that it is a 100 per cent paisa vasool. If we are not wrong, the film would definitely bag several awards this year.