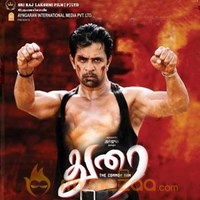 Durai Review
by

MyMazaa.com
---
Loads of action is the hallmark of any Arjun film. Durai is no different from his routine commercial action entertainers, where he takes on baddies, fights corrupt system and romances heroines.
Director A Venkatesh seemingly inspired by Hollywood flicks like Bourne Identity and Gladiator, has dished out an action extravaganza with Arjun by his side.
Arjun steals the thunder with his action sequences. He is there everywhere on the screen. As a macho-man, he fits the role admiringly well. €˜Durai€™ is a perfect example of how a racy theme could be presented with commercial masala elements.
Vivek's comedy is a major letdown. He reminds one of Vadivelu, who gets thrashed by people around for his acts. Heroines Gajala and Keerath have nothing much to do. The former plays Arjun's wife, who gets killed by a gang. Vishwanath plays an honest politician, whose character is a pivotal part in the movie.
D Imman has remixed Ilayaraja's Raja Rajathi Rajanindha Raja. Otherwise, the songs are typical of Imman - loud and westernized.
Raja (Arjun) works with a cook Arusuvai Ambi (Vivek). Raja c omes across Anjali (Keerat), who catches his interest. She falls for Raja.
But Raja cannot remember anything of his past. All he recollects are vague images and memories that disturb him in his sleep. After a sequence of events and chase by rowdies, Raja collects his past.
Raja, a year ago was Durai, who was the close associate of honest politician Deivanayagam (K Viswanath). Durai who leads a happy life with his wife (Gajala) and his son, is hesitant to assume the post.
Anjali (Keerat), a reporter, pursues him for interviews and falls in love. Deivanayagam gets killed and the blame falls on Durai.
His wife and son are murdered. Eventually, Durai alias Raja takes on his enemies cracks the truth behind Deivanayakam's death. Action oozing all the way.
Produced by Thenappan, €˜Durai€™ is a movie for die-hard Arjun fans.