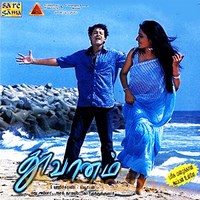 Thoovaanam Review
by

MyMazaa.com
---
Amidst action packed commercial clichés and masala flicks, the director duo Haricharan and Newton have tried their hands at a 'different cinema'. Though the end product is far from convincing, the fact that they attempt to churn out a realistic cinema needs to be appreciated.
The movie carries a poetic title. Thoovanam depicts the time of the sky before and after a drizzle. According to the director duo, the title syncs well with the cinema. It depicts the real life incidents in all our lives that catch up with us inevitably, a lost friendship, a broken bond or a lasting love that went haywire.
Adhithya and Nethra play the lead roles with ease. They have got into the skin of the character and come out in flying colours. The directors deserve a pat for choosing right artistes for all the characters. Sriman and Bhanuchander leave an impression playing a cameo.
The movie is about a nice guy Karthi (Adhitya), who hails from an affluent family. He is an interior designer by profession. He along with his friends leads a happy life in Chennai.
He comes across Anu (Nethra) in Puducherry. She is brought by her NRI father (Bhanuchander), an extrovert. Karthi falls in love with Anu. Dejected at his love rejected by Anu, Karthi decides to take the extreme step. Eventually he is saved by his friends. Anu comes to know of this and resumes her relationship with him. The scene changes and she falls in love with him. But the film doesn't end here. It all boils down to a touchy climax.
Madhu Ambat's camera has caught the locales in Puducherry with all grace. His frames and color tones are breathtaking. Issac Thomas' musical score is soothing to ears.
Thoovanam manages a gentle drizzle though it promises a loads of rain.