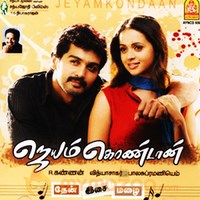 Jayam Kondaan Movie Reviews
Jayam Kondaan Review
by

MyMazaa.com
---
Director Kannan's debut film 'Jeyam Kondaan' from the stable of the reputed Satya Jyothi Films comes across as an entertainer sans conviction. The filmmaker has attempted to portray a young man's life weaving incidents that overtake his plans at every juncture and yet the sophisticated youth's focus is never in question. The film does boast of some slick cinematography but then every other department fails to impress much. Vidyasagar has certainly had an off day with his music. None of the songs are hummable and the background score is pretty ordinary.
Vinay is quite successful in donning a sophisticated and cool demeanor and seems to have traces of his 'naughty' expressions from 'Unnale Unnale' especially in the company of the two leading ladies Bhavana and Lekha Washinton. Kishore as the menacing gangster needs to be appreciated for his performance. The actor seems to have carried on the good work from 'Polladhavan'.
Kudos to Kannan, an erstwhile associate of Mani Ratnam for coming up with good characters in the film, but then some of the characters are wasted with quite a few loopholes in the script.
Arjun (Vinay) returns to Chennai after working in London for many years after his father's demise. With plans to start his own business in India with about 60 lakhs he had sent his father over the years, he reveals his intentions to a group of friends who get ecstatic at his plans. But the bubble bursts once they find that his father's bank balance does not support his plans. In comes a shocking revelation. His father has had another family and he had also raised a daughter (Lekha Washington) who is about twenty years old and has an insatiable thirst to study in the United States of America.
Sibling rivalry ensues over property inheritance and this is about the time director Kannan succeeds in keeping the audience interested. But then the intensity is lost with loads of contrived situations that lead the protagonist to Madurai where he intends to sell off one of his father's property which currently houses Bhavana and family. The inevitable (love) has to happen.
The film then gets rejuvenated with the entry of a local gangster Guna (Kishore). The character of the gangster's concubine keeps the intensity going as she has viewpoints that are not frequently addressed in Tamil film. She adores the gangster because he has the capacity to make people tremble with fear. Incidents build up in such a way that the concubine is killed in an accident in which Arjun is involved. Guna takes it personal and is out to get him at any cost.
Lekha Washinton's character is something most actresses who can perform well would love to don. The character has the scope of performing a plethora of expressions and Lekha has done quite well. Since this is her very first film we probably can expect a much better performances in her coming films. Bhavana though does not have much to do than except talk cute in most sequences.
With Guna expected to strike anytime, Arjun showers a lot of love and affection on his step-sister which she detests. What happens between then so that all their dreams can come true forms the rest of the story.
A very clear factor with 'Jeyam Kondaan' is that the director despite wanting the take the story forward based purely on human emotions has somehow succumbed to certain commercial elements that do not jell with the story at all. Comedy elements work well in patches with Vivek, Santhanam and V. M. Hanifa providing the laughs.