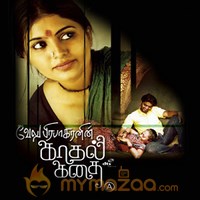 Kadhal Kadhai Movie Reviews
Kadhal Kadhai Review
by

MyMazaa.com
---
Within fifteen minutes on entering a movie hall to watch Velu Prabhakaranin 'Kadhal Kadhai', you encounter nudity from a small boy and girl to Adam and Eve, and hear of the word 'kaamam' in every sentence uttered. At best, 'Kadhal Kadhai' is between a boring documentary and titillating pornographic piece. And as a result, it is not watchable as either of these.
How much can sex and lust salvage a badly made film? Velu Prabhakaran has wanted to make a film that can freely thrive on sex and so, comes up with a flick in which these form the basic storyline. And it is as if he anticipated all hurdles in making the film with a subject like this. And so, the making of the film is the story itself.
Deceit and lust, which are often taken as side elements in movies, raise their head to see dizzying heights in the film. The director does well to speak of demystifying a woman's body, and goes on a saintly speech about it, but the film solely thrives on cleavages.
The movie is about the difficulties that Velu Prabhakaran suffers in making a movie about lust as a major force in all our lives, caused by the sexual suppression in our country. It is the story of three women, all victims of lust, losing out on 'morality' as they comply with the sexual urges of their lover/ boy friend or extra marital love.
As if sex isn't tricky enough a topic to handle, the caste difference factor is woven in, making things seem unbelievably boring.
We're not going to talk about the technicians in the movie because they don't seem to have done any work at all. To its credit, the film does have a story to boast of, and at times, Velu Prabhakaran's monologues do strike a chord. But acting is at such an all-time low in the movie, that you think even the actors were unhappy at doing the film.
What convinced Illayaraja to be part of a film like this? But he makes his presence felt only in the title card.
The film takes a highly moral stance against exploitation of a woman's physique. But sadly, the movie is full of the exploitation of not one, but three women.