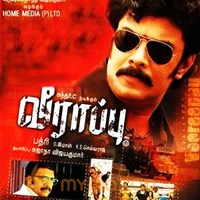 Veerappu Review
by

MyMazaa.com
---
Veeraappu - Raising son
Noted director Sundar C proved his mettle as actor playing the lead role in Thalainagaram.
In his second venture before the camera, Sundar C has opted a safe route by going in for the remake of blockbuster Malayalam hit Spadikam. The original version featured Mohanlal and Thilakan as father and son.
Debutant director Badri deserves due credit for remaking the emotional encounters between father and son without any presumptions. Essaying the lead role, Sundar C has brought out the best in him.
Giving him good support is Prakash Raj as a strict father. The movie has right mix of action, romance and humour.
Vedhakannu (Prakash Raj) is a high-school maths teacher who is also a Presidents medal winner in Mathematics. He is a very strict disciplinarian and emphasizes on discipline. He punishes his students ruthlessly and is no different to his son Pandi, who is also a student in his class.
Vedhakannu always assumes that his son is behind every mischief in class and punishes him until the actual culprit confesses. Unlike his dad, Pandi is very bad at maths but is very creative and productive in designing mechanical and electronic gadgetry. For instance, he impresses his mother and sister by developing a radio. When his dad finds out about the receiver he throws it into flames and destroying it; he forces his son to focus on his studies instead of being an inventor. Pandi fails in his exams and slowly his life takes a turn.
Many years later, Pandi emerges a local rowdy and is wanted by the police in many unsolved crimes. His dad still hates him and is never accepted in the family. Pandi comes across a teacher Bharathy (Gopika) and falls in love with her.
The rest of the movie is about how dad and son, regrets for what they had done to each other. Prakash Raj as a strict father has done his part well. His mannerisms and dialogue delivery is matured. Gopika looks appealing but has very little scope to perform in the movie.
Vivek in the company of Anju tickles the funny bone in the audience. Imman has come up with some peppy numbers.
Produced by Sujatha Vijayakumar, Veerappu is a movie that is different from the commercial cliches. It is an emotional potboiler and is sure to go down well with womenfolk.