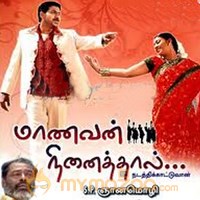 Maanavan Ninaithal Movie Reviews
Maanavan Ninaithal Review
by

MyMazaa.com
---
Debutant director Gnanamozhi has dished out an oft-repeated storyline based on campus love although with predictable sequences.
Newcomers Ratheesh and Priyashree play the lead role. The supporting cast includes K Bhagyaraj, Nalini, Pandu, Kottachi and Manobala.
Bhagyaraj hogs the limelight and manages to leave his mark in the brief role spicing it with his unique style of wit and punch dialogues.
Newcomer Ratheesh and Priyashree have done their best to be noticed.
Ratheesh hails from a poor family and manages to secure good marks in his school final examinations. He gets admission in a prominent college in Chennai. He falls in love with Priyashree, who studies in the same college. His life then takes an unfortunate turn.
He gets acquainted with a group in the college and goes the wrong way. He takes to drugs and liquor. Realizing his folly, he decides to end his life.
He conveys his decision through an audio cassette and sends it to his parents. Enters K. Bhagyaraj, a do-gooder, who helps Ratheesh overcome all his problems.
Newcomer Dashi has come up with a couple of hummable tunes.
Produced by Adhavan creations, 'Maanavan Ninaithal' is a movie that could have been made better had the director infused pace in the screenplay. The narration too could have been placed in a better order.
Taking into considering that this is Gnanamozhi's maiden venture, a pass mark can be given.