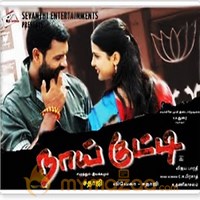 Naai Kutty Review
by

MyMazaa.com
---
An orphan brought up in a slum takes to negative ways in his life. Eventually he becomes a victim of his own acts. This forms the crux of 'Naaikutty', produced by V A Durai and directed by debutant Sathaji.
The events that unfold in the movie are predictable and cliched. Had the director opted for novelty in narration, 'Naaikutty' would have been a different fare.
Durai, who produced films like 'Pithamagan' before, deserves appreciation for giving rookies a chance. The film features newcomer Selvin in the lead role. Nicole, Suri, Eswari and Jayakumaran form part of the cast.
An orphan (Selvin) is brought up by a rickshaw puller in a slum in Chennai. He is called 'Naaikutty' by people in the area. He lives a wayward life and doesn't go for any work.
A drunkard, Naaikutty along with his friend Mari (Suri) spends his life without any zeal or ambition. Malli (Nicole) is a flower vendor who admires Naaikutty. She helps him by giving money.
After his foster father's demise, Naaikutty decides to ride the rickshaw. He comes in to contact with those involved in flesh trade and works for them. He soon becomes rich. He works for Reddy (Jayakumaran), who runs a prostitution racket.
Sequence of events lead to enmity between Naaikutty and his friend Mari. The latter hatches a conspiracy and leaves Malli to Reddy and his gang. Eventually she gets killed by Reddy's men. What happens then forms the climax.
Selvin has done a decent job. His role has resemblance of the one played by Karthi in 'Paruthiveeran'. Nicole looks cute and pleasant on screen. 'Vennila Kabadi Kuzhu' fame Suri plays his part well.
Debutant Jayabharathy has scored the music for the movie that has a couple of 'kuthu numbers'. C H Prasad handles cinematography, which is partly neat.
Though 'Naaikutty' had all potential to become a sleeping hit, it has ended up a dull affair, blame predictable sequences narrated in a vague way.