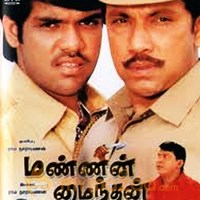 Mannin Maindhan Movie Reviews
Mannin Maindhan Review
by

MyMazaa.com
---
After a miserable show in Kannamma, DMK supremo M Karunanidhi is back penning dialogues for Mannin Maindhan. At many places the dialogues have political overtones and as usual has references to contemporary issues like the disappearance of Kannagi statue or that of Sivakasi Jayalakshmi case. Still, the feeling of being caught in a time warp is inescapable.
Bhairavamurthy (Manoj K Jayan) and Gajapathy (Ponnambalam) are two landlords in Metukudi village who fight with each other on all issues. They have men loyal to them who wield their aruvals and throw country bombs on each other quite often.Meanwhile,
Bhairavamurthy's wife and his car driver get killed by Gajapathy's men. An agitated Bhairavamurthy urges Kadhir (Sibiraj), the car driver's son, to take revenge on Gajapathy one day and grows him up in his house.
Bhairavamurthy's daughter Amutha (Suha) returns to the village from college hostel, only to fall in love with Kadhir. Coming to know about their affair, an agitated Bhairavamurthy decides to bump off Kadhir and joins hands with his enemy Gajapathy to accomplish the task.
The rest is Jeyam style in which the couple flees the house and runs around village to finally get wedlocked. It's not over yet. Scores of men belonging to both landlords understand the folly of taking a violent path and finally throw away their aruvals and return to normal life only to teach both the landlords a lesson.
Sibiraj, after a couple of sedate films, plays an angry young man. He still seems to have a long way to go. His inexperience shows as playing such a tough role demands more solidity.
Though he does his best in stunt sequences , he comes a cropper in the rest of the scenes. Suha, a debutante, has nothing much to do. It's actually Manoj K Jayan and Ponnambalam who share the screen most and come out with a strong performance. Playing landlords pitted against each other, they appear all through the film.
Vadivelu tries to evoke laughter playing a drunkard man, but his effort goes in vain. Alex, Suman Shetty, Bala Singh, Indhu, Thiyagu are also in the cast.
An outdated story perhaps. Karunanidhi as usual has touched upon Agananooru, Purananooru, Valluvam and Kannagi in this movie. Many dialogues are confusing and fail to get the notice of audience.
Sathyaraj playing a police officer does nothing but appears as if only to speak a few dialogues now and then.
Bharadwaj's music is very flat with none of the song sounding impressive. Raj Keerthy's editing alone stands out for taking the movie in a swift pace.
Rama Narayan's direction is old-styled and mediocre.
Mannin Maindhan is more dusty than being earthy.