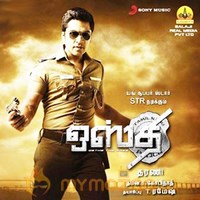 Osthi Review
by

MyMazaa.com
---
Story:
Osthi Velan (STR) is a dauntless corrupt cop who fears for nothing about the family, friends or foes. His mother (Revathi) showers love on him but he hates his father (Nassar) and elder brother (Jithan Ramesh). He is a man with big heart who helps the needy and fraudulent politicians, goons, loots their money. Velan falls in love with Neduvalli (Richa Gangopadhyay) who has a drunkard father (VTV Ganesh) to look after. DShe gets hooked to him after her father passes away. Meanwhile, he is on loggerhead with a local political leader (Sonu Sood) indulges in malicious activities and uses his family troubles for personal his personal gain. Rest of the story deals with how Velan bashes up this baddie.
Performances:
It's Silambarasan's show all the way. He delivered a matured performance as a cop with the blend of humor and style and carried the role at ease. Though a remake of Dabangg, Simbhu has done the role entirely in his own energetic style. His Thirunelveli dialect is good and it's is a treat to all his fans when he rips of the shirt fighting against Sonu Sood in climax.
Richa Gangopadhyay is homely yet glamorous in the Village belle role. While Mayakkam Enna proved her mettle, Osthi makes her position strong in Kollywood. She is expressive and has emoted well. Her chesmistry with Simbhu rocked.
Sonu Sood shows a lot of promise with his impressive act. Sonu got an ample screen space and he utilizes the role to the fullest by repeating his act in original as a witty and clichéd villain.
Santhanam brings the roof down with laughter especially scenes involving him and STR. He is at his best with the one-liners. Jithan Ramesh gets a meaty role as lead actor's brother and he is convincing. Revathy is impressive; VTV Ganesh, Thambi Ramiah, Nasser and others added their efforts for the film. Mallika Sherawat needs a special mention for her appealing item number.
Technical Analysis:
Gopinath's cinematography is on top-notch and Dharani and Gopinath proves that they share an excellent rapport when comes to the team work. Music by Thaman is foot-tapping and entertaining and is an asset for the film. Osthi title track sung by Baba Sehgal along with the talk of the season song Kalasala casting Mallika Sherawat, Sonu Sood and STR stays on the top. Dharani dialogues are good and crisp.
Analysis:
The main plot of Osthi is old-fashioned family drama interlaced with revenge saga. Osthi is not an intellectual or a unique story film but it offers a full-on entertainment in the form of lighthearted love story with refreshing romance, heavy-duty action episodes, entertaining comedy and foot-tapping songs.
The action sequences of Osthi are impressive and so are the punch dialogues. Romance between the lead pair looks refreshing. Despite few clap worthy scenes, the film lacks concrete plot. Osthi which is the remake of Dabangg is an out and out mass entertainer and provides ample entertainment to the movie lovers.
Final Verdict:
Osthi makes a good watch for mass entertainer lovers