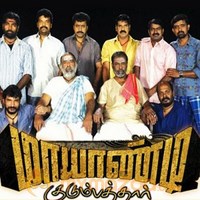 Mayandi Kudumbathar Movie Reviews
Starring

Seeman

,

Tharun Gopi

,

Manivannan

,

Rajkapoor

,

G M Kumar

,

Ponvannan

,

Singam Puli

,

Ravi Maria

,

Nandha Periyasamy

,

Jaghannath

,

Thamizharasi

,

Poongodi

Music

Sabesh Murali

Director

Rasu Madhuravan

Producer

Samu Sivaraj

Year
2009
Rating
Mayandi Kudumbathar Review
by

MyMazaa.com
---
At a time when mass themes are being churned out and heroes portrayed as next to God, director Rasu Madhuravan has had the conviction in him to come out with a movie that stresses the need for value within a family and the need for them to stay together.
Mayandi Kudumbathar is a movie that has a strong storyline with artistes living their characters. A total of ten directors come together to tell a touchy tale. Each hog enough screen space and give their best. Rasu Madhuravan deserves credit for taking the guts to bring out the actor in director Tharun Gopi, who may not have the exact looks to appeal, but suits the character that he has donned on screen.
The whole story unfolds in a remote village in Madurai. The detailing and home work by the director deserves a special mention for it makes one glued to their seats. In short, it is the movie about the sibling rivalry between two families.
Seemingly inspired by movies like Sivaji Ganesan starrer 'Pazhani' and the recent 'Devar Magan', 'Mayandi Kudumbathar' starts off in a slow fashion narrating the bond shared between brothers and slowly settles down to a action-packed climax.
Its been a long due in Tamil cinema - a tear-jerker that convinces the audience. Thankfully the director has laced commercial elements and entertaining aspects in a right mix to make this movie work.
Manivannan (Mayandi)and G M Kumar (Virumandi) are brothers who gets split following a property dispute. The latter and his sons are keen to take revenge on Mayandi and his wards. They often cross swords with each other, but a good samaritan Mayandi prevents the inevitable from happening.
Mayandi showers all his love and affection on his younger son (Paraman) and his elder brothers (Pon Vannan, Seeman and Jagan) too care for him a lot. However after Mayandhi's death, life takes a turn and their wives starts to treat Paraman as a dirt. Fearing a catastrophe in the family because of him, Paraman decides to go away. Adding fuel to fire in his life is his girl friend's unexpected wedding with someone else.
However he realises his father's dream of completing his higher education and getting employed in a big firm. Now enters the family of Virumandi to settle scores with Paraman and his brothers. Did they succeed form the climax.
Tharun Gopi seems to have tried his best. He sings, romances and fights too. Tamilarasi and Poongodi as heroines does come out with convincing performances. The highlight is however the excellent portrayal by Mani Vannan and Mayilsamy. Both play their part exceedingly well evoking tears in the eyes of audience at many places.
Seeman, Jagan, Ravi Maria, Pon Vannan, Nandha Periyasamy, Raj Kapoor, Singam Puli among others impress.
Sabesh Murali's earthy tunes mesmerise the audience taking them to dry barren lands of Madurai. 'Mayandi Kudumbathar' is a movie that has a story and purpose in it. For those who love emotions, 'Mayandi Kudumbathar' would be their destination.