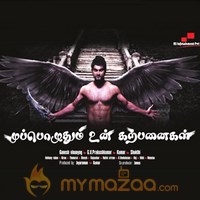 Muppozhudhum Un Karpanaigal Movie Reviews
Muppozhudhum Un Karpanaigal Review
by

MyMazaa.com
---
Story:
Ramachandran commonly called as Ram (Atharva) is an IT employee in a high-flying company. Coming to our heroine, Latha (Amala Paul) hails from a rich family in USA, daughter of a Kingpin in IT Empire. The lead pair meets during a special project meet in India and become the part of a team to create the software for preventing the radiation generated from radioactive machines and instruments to prevent the human race from hazardous diseases. Meanwhile Ram and Latha start sharing pleasures and likeliness. Here comes an interesting twist for viewers what is the twist? How will they solve? Make the crux of Muppozhudhum Un Karpanaigal.
Performance:
Atharva has given a stunning performance compared to his earlier films. Doubtlessly, he is sure of make big this time. Atharva will surely make a promising career ahead. He showed extraordinary expressions body language and apt performance as an IT chap.
Amala Paul seems had worked a lot and put more efforts to get into the skin of American IT female. Santhanam comic tracks are regular as well as enjoyable and his take on as IT professional is real fun.
Technical Analysis:
Producer turn director Eldred Kumar has given a brilliant script that keeps the audiences stick glued to the screens throughout the show.
G.V.Prakash musical tunes were already proved best and the back ground music is also scored well.
RS Infotainment once again proved to be producing best scripts.
Analysis:
Muppozhudhum Un Karpanaigal is a feel good movie, which makes audiences stick to the screens without getting distracted even for a single scene. It is worth mentioning that Eldred Kumar has been a part of script team in almost all the movies he has produced and his work is appreciable here.
Final Verdict:
True entertainer and must watch film, go watch Muppozhudhum Un Karpanaigal in theaters.