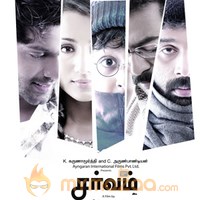 Sarvvam Review
by

MyMazaa.com
---
Director Vishnuvardhan seems to have mastered the art of making a trendy, sophisticated and chic film. The young film-maker often led his films do all the talking. After touching the peak in 'Billa', Vishnu is out to face the litmus test with 'Sarvam'. With his trusted lieutenant Arya by his side and the likes of cinematographer Nirav Shah and music composer Yuvan Shankar Raja around, he has come up with a movie that certainly lives up to his reputation.
Vishnu has tried a marriage between commercial and real cinema in 'Sarvam' and seems to have succeeded fairly. Though the storyline seems to be familiar, yet with his typical visual narration, he walks away with all honours. As like his other films, Vishnuvardhan has blended romance and action at right mix.
A convincing thriller is a rarity in Tamil cinema. Vishnu has taken it in his stride and rendered a movie that is convincing and makes the audience glued to their seats. What more, he has struck to his task without deviating from the storyline.
Arya and Vishnuvardhan share a good rapport as was evident in their previous film – 'Arindhum Ariyamalum' and 'Pattiyal'. With 'Sarvam', the duo seems to have struck a hat-trick. Polished by Bala in 'Naan Kadavul', Arya comes across as a cool, suave architect who runs behind Trisha in the second half and goes hammer and tongs flexing his muscles to save the life of a young innocent child.
Trisha is gorgeous and as fresh as an apple. She fits the role of a medical practitioner in love with Arya. The only disappointment is that she fades away from the story very quick. Unfortunately she hogs very little space on screen.
JD Chakravarthy, who sizzled the screen in Tollywood, plays an interesting role. However the lack of conviction in narrating his character robs away the sheen from his character. Malayalam actor Indrajith makes his debut in Kollywood playing a desperate father running from pillar to post for his son.
Karthik (Arya), a cool suave architect comes across a young doctor Sandhya (Trisha) at a Kart track. He falls for her instantly. Romance blossoms. Tragedy strikes in Karthik's life when a kite snatches Trisha's life. Desperate attempts to save Sandhya who is strangled by the thread of the kite ends in vain. However her heart gets transplanted for a young boy Imman (Rohan), son of Naushad (Indrajith).
A flashback reveals that Naushad had run over a football coach Eashwar's (JD Chakravarthy) wife. He is keen to take revenge on Naushad by plotting to kill his son. Arya develops a good rapport with the child after his ladylove's heart is transplanted to him.
Coming to know of Eashwar's motive, Karthik steps in to save the kid. What happens then forms the climax.
Vishnuvardhan deserves all credit for making it stylish from the first frame. Nirav Shah's lens does all the magic capturing thrilling moments well. He captures the various locales of Chennai, Rajasthan and forest lands well. Yuvan's brisk re-recording towards the second half is praiseworthy.
On the whole, Sarvam, produced by Ayngaran International, is a visual delight that is sure to thrill the audience.