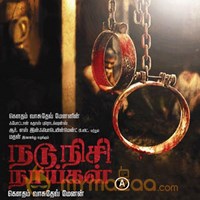 Nadunisi Naaygal Movie Reviews
Nadunisi Naaygal Review
by

MyMazaa.com
---
Nadunisi Naaygal Story
Named as Samar in his childhood, he gets disturbed by the way his father behaves and grows under the custody of his neighbour Samaritan Meenakshi aunty. His aunty changes his name as Veera. His childhood events continuously irk him day and night. In the relation with Meenakshi he tries to forget the shocking scenarios. As seen all bad situations during his early days with his compulsive disorder he develops his desire towards Meenakshi, but she always treats him like a son. He becomes jealous when Meenakshi gets married. One fine day he kills her husband and in this struggle Meenakshi too gets burned and will be left with a dreadful face.
Veera being with irrational thinking becomes a psychopath by showing different personalities that are harmful. With his different behavior Veera runs after young girls for compulsive love and later leads it to violence. Sukanya (Sameera Reddy) is his childhood friend and he starts his dreadful game with her. He kidnaps her and in this process Veera gets caught by police. Here he reveals the reason for his behavior which is to be watched on big screens.
Performances:
Veera as Samar has excelled in the role of a psycho and performed ultimately in dreadful sequences. Though being new for acting, he nowhere showed the freshness of his acting skills in the film.
Sameera Reddy as a Sukanya gave an awestruck performance. Her acting skills must be appreciated during scary scenes. Coming to gorgeous beauty Samantha, She hardly has footage in the film but has done a decent job.
Deva who was seen in the role of Vijay, Assistant Commissioner of Police has done fairly well. He looked tough and suited the role perfectly. Ashwin Kakumanu as Arjun and Swapna as Meenakshi did complete justice to their roles with good performance.
Gautham Menon's direction is outstanding and the film made an attempt to look like a Hollywood and Korean thrillers. Gautham maintained the suspense element till the end with his screenplay. He scared the audiences with his extreme script. Especially direction in the second half has the right amount of twists.
Cinematography by Manoj Paramahamsa brought a rich look to the film and it was stunningly extreme. Editing by Anthony is good.
The first half of the film is reasonably good and carries off well and in the second half the film gets into the point and creates the much needed curiosity by engaging the audience.