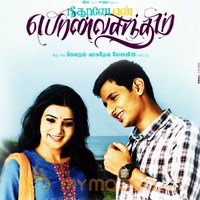 Neethaane En Ponvasantham Movie Reviews
Neethaane En Ponvasantham Review
by

MyMazaa.com
---
Neethane En Ponvasantham (NEP) with an open mind, least expectations, enormous patience and a healthy appetite for love stories. And probabilities are that you may enjoy the ride.
The director sets the film in a milieu that he is familiar with. Intense love stories are rare in Kollywood these days and Gautham Vasudev Menon is a past master at it. Once again through NEP, he tries to make a simple love story which youngsters can identify with.
NEP is a sweet romantic story of Varun (Jiiva) and Nithya (Samantha). These two different characters go through the pangs and pleasure of first love, while battling with the situations that life has placed them in.
Varun and Nithya are childhood friends from the age of eight. They fight and break up when in school and in college too they repeat the rigmarole of falling in love and then breaking up over silly issues. Finally, they meet once again at 25. And once more history repeats itself till the inevitable happens all over again!
The whole film is about people who find each other and at some point, because of ego or the choice of careers, drift apart. Here there are no villains or fate intervention which comes in the way of their love but silly ego's.
It is Jiiva and Samantha the lead pair who carries the film with effortless charm and sweetness. They both look good on screen and their banter is cute and fresh. Jiiva has come out with a knockout performance as a happy –go-lucky guy who wakes up to his responsibilities. His dialogue delivery is near-perfect and body language, precise.
However, the film belongs to Samantha with a layered performance that brings out her character as a head strong girl who is madly in love with her man. On the downside, NEP meanders at a sluggish pace with a running time of 153 minutes, until absolute exhaustion sets in.
The supporting cast in the film is what makes it tick. Santhanam is a scream as he infuses energy with his smart lines and his natural dialogue delivery. Vidyulekha who comes as Samantha's best friend and ends up as Santhanam's girl is good. MS Prabhu and Om Prakash's camera is eye-catching while Ilayaraja 's music especially the BGM goes with the theme of the film. 'Saindhu, Saindhu…' and Yennodu Vaa Vaa...are the pick of the lot.