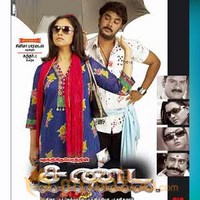 Sanda Review
by

MyMazaa.com
---
Director Sakthi Chithambaram leaves no stone unturned in his pursuit to dole out a surefire masala flick. The mix of fights, glamour, songs, sentiments, and comedy could definitely attract a sort of crowd, which doesn€™t bother about logic or maturity in film making.
The director has woven together Sundar C€™s incredible heroism, inimitable sex appeal (?) of Namitha, unimaginative and vulgar comedy of Vivek, and Nadhiya€™s admirable histrionics to get the movie going.
Though the director doesn€™t have any pretensions in making his movie as a masala mix, he does have pretensions in having a story. Thangalakshmi, a billionaire from Bangkok (Nadhiya), wants to arrange the marriage to her daughter Abhinaya (Rahini) with a boy hailing from a rich family in the same country. She wants the marriage to take place in her home town Coimbatore, as she wants to settle scores with her brother, who had allegedly killed her husband, an honest IAS officer, fourteen years ago.
Palpandi (Lal Alex), her brother starts troubling her from the moment she lands up in Coimbatore. Thangalakshmi hires the services of a thug €˜Kaththi€™ (Sunder C) as her family€™s body guard. Mani (Vivek) too joins the bandwagon as her secretary. Palpandi, who wants his son to marry Abhi, tries his best to stop the marriage but Kaththi always manages to outsmart him.
Though Thangalakshmi, with the help of Kaththi€™s heroic acts manages to make the marriage feasible, the family of the groom retreats at the last moment, fearing the sickles and blood shed caused by the family feud. But Thangalakshmi wants to conduct the marriage in her homeland at any cost in front of her hostile brother. So she asks Kaththi to marry her daughter who hesitantly obliges.
View Sanda Gallery
View Sanda Gallery
Shakthi Chithambaram brings a twist here. Kaththi is none other than Kathiresan, the son of Palpandi, who wants to make his sister realize that he did not kill her husband. He wants to use this marriage to end the hostility.
Now the tug of war between the mother-in-law and the son-in-law begins and it is complicated by the arrival of the real killers of Thangalakshmi€™s husband. In the climax, the killers are killed and the family is united. Meanwhile you have sexy Namitha trying to seduce the hero and Vivek trying to tickle your funny bones with a comedy track that sans decency.
There is nothing wrong in making a commercial fare without any seriousness but it is mandatory to have a semblance of reasoning in the proceedings. Shakthi Chithmbaram seems to have scant disregard for the logic or reasoning and it would be a futile exercise to point out the loopholes.
Performances wise Nadhiya, looking like the real heroine, steals the show with her smart looks and smarter acting. Sunder C has once again proved that playing a commercial hero€™s role is just a stroll in the park for him. He looks good and does what is required of him. While he must make his dialogue delivery better, he should think of taking up challenging roles with substance to avoid getting stereotyped.
Rahini passes off as a heroine material but she has not been given ample scope to prove her worth. Vivek has once again come out with an unimaginative and vulgar comedy track. The cold war between him and the hero in the initial sequences looks better than the track that is on offer in the second half.
View Sanda Gallery
View Sanda Gallery
Napoleon in a cameo role impresses with his no-nonsense performance. Lal Alex does justification to his role. Others including Ravi Maria, Raj Kapoor, €˜Kaadhal€™ Dandapani, and Delhi Kumar are just about okay.
Dina has made a couple of songs worth listening while there is nothing much to say about the remix (Vaadi En Kappakizhangey), which almost sound like the original. €˜Dhalapathy€™ Dinesh has choreographed the stunts impressively.
The bottomline: the film could succeed in wooing crowd with its hardcore masala mix but has nothing for those who like to see some genuine efforts on celluloid.