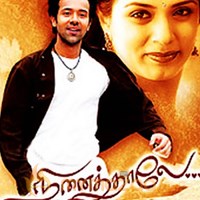 Ninaithale Review
by

MyMazaa.com
---
Vishwas Sundar had earlier proved his credentials as a successful producer and a film distributor. He has forayed to direction with Ninaithalae. Starring a bunch of newcomers, he has managed to come out with a feel good film (a take off the Telugu hit Anand) sans violence and double meaning dialogues.
Suchin, son of yesteryear heroine Vyjayathimala Bali, makes his debut alongside a newcomer, Nargis.
Playing a lover boy, Suchin has the looks and facial expression to be of good value in the longer run. He emotes and performs well in dance sequences too. The young actor seems to have made a good beginning.
Not far behind is Nargis. The Mumbai girl, who resembles Jyothika, has a powerful role to play. A major portion of the movie revolves around her.
Unlike contemporary heroines, who appears in a couple of dance sequences in skimpy costumes and then disappear, Nargis has an important part to play in the movie. She has handled it well.
The movie revolves around Roopa (Nargis), whose parents get killed in a road mishap and she is forced to lead an independent life. She struggles hard in her life and manages to lead a decent life. Enters his colleague Sarfras (Rahul). Both fall in love and decide to get married. Unfortunately on the day of the wedding, Rahul's mother dampens all their plans and Rahul is forced to take sides with his mother. Anandh (Suchin), who turns up at the wedding develops a liking for Roopa. Son of a rich businessman, he tries desperately to get acquainted with Roopa. He seeks the help of his friend Narayanan (Krishna). Anandh's plans to impress Roopa backfire every time. After a sequence of events love blossoms between the two. When things go well, Roopa comes to know that it was Anandh's father who had been the cause for her parents' death in a mishap several years ago.
Did she forgive Anandh and marry him or not, forms the crux.
All the characters have done the job entrusted to them well. Santoshi playing Nargis' friend and Krishna as Narayanan have done a commendable job. Velu Prabhakaran plays a cameo as Suchin's father.
Madhi, who cranked the camera for Veyyil, has continued his good work in Ninaithalae. Vijay Anthony tunes are catchy especially the song Ilayaraja, A R Rahman.
Vishwas Sundar seems to have been impressed by Bollywood candyfloss movies. He has tried to give a rich and yuppie kind of movie. The movie is sure to strike a chord among the youth.