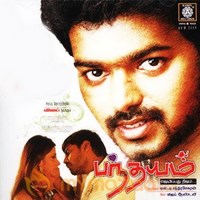 Pandhayam Review
by

MyMazaa.com
---
Relying on his son's (Vijay) star power, veteran director S. A. Chandrasekharan has dished out Pandhayam, which speaks lofty about his son.
With Prakashraj at the helm of affairs, the director has made an action-packed entertainer, which has a storyline that is very old and oft-repeated in Tamil Cinema.
Nithin Sathya, after hogging the limelight with movies like 'Chennai 600028' and 'Saththam Podathae', takes the centre stage to play a single hero in the movie.
He has enough opportunities to evoke humor, flex his muscles and emote.
Chandrasekharan has used all his experience to make the predictable story a racy stuff.
Sindhu Thulani is back after a brief interval. She plays a typical Tamil heroine, who is bubbly in romantic song sequences. She looks fresh on the screen and her onscreen chemistry with Nithin Sathya is good.
The movie is about Sathya (Nithin Sathya), a college student and an ardent fan of actor Vijay. Sathya comes across Sindhu (Sindhu Thulani), sister of an influential Minister Masanam (Prakashraj). Impressed by Masanam's sister, Sathya decides to romance her. However his friends warn him off incurring the wrath of Masanam. Sathya wins the confidence of Masanam by enacting a play and becomes his trusted aide.
Once this is done, Sathya hides his identity and challenges Masanam over the phone that he would marry his sister within 16 days. A game begins between Masanam and Sathya begins. Who wins the game eventually forms the climax.
Actor Vijay plays a cameo. He appears as himself shooting for a movie directed by Perarasu. His very brief appearance has him uttering punch dialogues.
After a brief interval, Prakashraj plays a baddie all through. He reminds one of playing a similar role in movies like 'Ghilli' and 'Sivakasi'. But he goes about the job exceptionally well. Radhika Sarathkumar strikes a chord with audience with her subtle performance.
Music composer Vijay Anthony makes his mark with catchy remix of couple of Ceylon Manohar's pop songs that lured youngsters in the early 1980s.
The movie begins at a slow pace only to gather momentum as it progresses. Chandrasekharan has dished out several engrossing fares in the past. Though Pandhayam is no match to his earlier works on screen, it is watchable because of its racy script backed by Prakashraj's brisk performance.