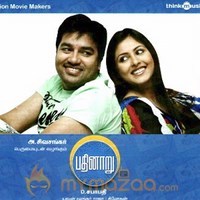 Pathinaaru Review
by

MyMazaa.com
---
Pathinaaru starring of RJ-turned-actor 'Mirchi' Shiva and Madhu Shalini in the lead roles released today with high expectations. The film depicts the love and romance between teenage lovers. Shiva's role is completely different when compared with his earlier movies. Director Sabapathy has written and directed the youthful entertainer. Yuvan's tunes are great plus for this cute love story.
Pathinaru Story:
The film starts with a regular story, the love between two youngsters Siva (Siva) and Indhu (Madhu Shalini), who study in a city college. They spend time together regularly and in one incident Indhu's father finds her in a shopping mall with Siva. He gets shocked but unlike other father's he doesn't want to go in a fury and informs the situation to his wife. Indhu denies her love with Siva when asked by her parents. She plans to elope and get married, but her parents gets to know her daughters plan and invite both of them for a talk.
Indhu's mother gives them a book titled Pathinaru and asks them to go through the book. The book reveals a sweet teenage love story between 16 year old Gopi and Ilavarasi. On knowing their love Ilavarasi's parent's stops her on going to school and compel her to get married to another person. Ilavarasi fights with her parents and tries to elope and get married to Gopi. But she ends up in a sticky situation when her father warns her by saying that he will kill himself if she marries Gopi. Unlike any daughter Indhu too gets touched with the story and decides to leave her love for her father.
Shiva gets shocked by her decision and tries to get back her love. He leaves to the village and gets in touch with the couple Gopi and Ilavarasi. The rest of the story parts on how he tries to win Indhu's heart back with the help of the lover couple is the climax.
Performance:
Shiva is apt to the character as a serious lover and is impressive. He looked matured in acting when compared to his past films. Especially during emotional scenes his performance will surely roll tears, whilst in some parts of the film Shiva brings some comical relief.
Madhu Shalini as young lover performs with complete ease and she looked completely natural as a college girl.
Abhishek made his mark with his striking act.
Director Sabapathy's presentation is completely different as he blended a thriller factor into a romantic love story. Pathinaru breaks the boredom in Kollywood, by bringing a fresh story with logic and sensitivity.
Yuvan Shankar Raja's music is the moral fiber of the film. He has composed the songs which are apt for the theme.
The director needs to trim down lengthy scenes and repetitive dialogues in some places.