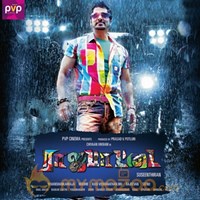 Rajapattai Review
by

MyMazaa.com
---
Story
Anal Murugan (Vikram) is a gym trainer, who aspires to become a villain in the movies. Deeksha Seth is an IT girl, who stays in a hostel in Murugan's area. He saves elderly man (K.Viswanath) from the goons of local leading politician Akka [Sana], as the former' son forces him to sign on land papers which belong to an orphanage to grab an MLA seat. Viswanath informs his son's sketch to grab the land joining the lady thug Akka and the other baddie Pradeep Rawat. How does Murugan save Viswanath and win him his land back forms the crux of Rajapattai.
Performances
Vikram has come out with a mass commercial character after so long time, in the form of gym trainer who is passionate to become turn as villain in the movies. Vikram has delivered an energetic performance and it's a treat to watch him in the role.
Deeksha Seth is just restricted to glamorous scenes especially songs and has nothing to perform. In second half of the movie, the actress just appears for the sake of songs.
K.Viswanath has given his best and his role was quite impressive unlike his previous films. He was involved in maximum scenes in the first half of the film and he turned out to be the showstopper.
Telugu actress Sana has done a powerful antagonist role she has done a good job, while Pradeep Rawat who appears in the second half is okay. Reema Sen and Shriya Saran have set the screens on fire with 'Laddu laddu rendu laddu' number, which energized the viewers.
Technical Analysis
R. Madhi's cinematography is on top-notch and the film looked colorful from the word go. Audiences enjoyed the songs by Yuvan Shankar Raja especially 'villavi villangal' and 'laddu laddu rendu laddu' songs are good but the latter could have been placed earlier instead at the end, the background score is entertaining. Suseenthiran's direction is good but the story is simple like any commercial entertainer and the screenplay is highly predictable which takes away the curiosity of the audiences
Analysis
The first half of the movie was a good entertainer, trying slight comedy tracks with K.Viswanath playing a different role from his past performances and guiding Vikram with some love tracks. However, Deeksha Seth has hardly any screen time in the movie, apart from songs. The chemistry between the lead pair looked good, though there are just a very few scenes.
The second half of the movie had violent fights showcasing Vikram's heroism and Rajapattai perhaps records the longest fight in Vikram's movies. However, the screenplay is a letdown as it's highly predictable and the abrupt climax end is another minus. Nonetheless, Rajapattai has its own engaging moments in parts that would surely entertain commercial cinema lovers.
Final Verdict
Rajapattai is a one time watcher.