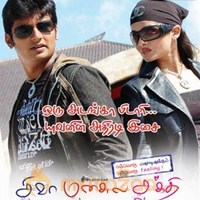 Siva Manasula Sakthi Movie Reviews
Siva Manasula Sakthi Review
by

MyMazaa.com
---
'SMS', it is the buzzword in every lip of a youngster. A movie carrying the title is sure to evoke the attention of movie-goers, predominantly youths these days.
Cashing on the trend is Vikatan Televisions, whose maiden production venture 'Siva Manasula Sakthi' (SMS) was hyped as youthful extravaganza.
A candy floss love story of a poor, undereducated young boy going after a rich, well-educated and independent girl is what 'Siva Manasula Sakthi' is all about.
Directed by debutant Rajesh M, the film has romance loaded heavily inter spread with comedy.
Unfortunately in taking this conscious path, the director seems to have lost track of the screenplay. Beginning with a brim of hope, it loses its way in the middle only to end on a
clichéd path.
The pre-release hype projected the movie as a Valentines Day special. However, it really turns out to be a flick that is entertaining only in patches.
Siva (Jeeva) meets Sakthi (Anuya) during a train journey. To impress the girl, Siva says that he is an army officer while Sakthi says she is an air hostess. But the truth gets revealed very soon. Sakthi is a radio jockey while Siva ekes out livelihood working as a delivery boy in a courier company. They turn cat and mouse. They vow to disturb the peace of each other and curdle their lives.
However, how different they are (like chalk and cheese), they eventually vibe well. When Sakthi's father finds a techie for her to marry, Sakthi realizes that she is love in with Siva.
It's a different Jeeva here. After his cumbersome portrayals in recent movies like 'E', 'Kattradhu
Thamizh' and 'Rameswaram', one can feel happy for the actor, who plays a boy-next-door. He oozes right energy and enthusiasm in the movie. His choice of costumes is apt for the character and his body language is refreshing.
Newcomer Anuya disappoints. She is one-dimensional. Santhanam and Urvasi provide some comic relief in the romantic flick.
Yuvan's music is peppy. His songs are tailor-made for the youth. The re-recording provides a sophisticated feel for the film.
Rajesh has made the movie with a sole purpose to entertain the audience staying away from tear- jerking episodes and dramas. However had he paid more attention in his characterization and made the screenplay more cogent, this SMS would be often read and forwarded.