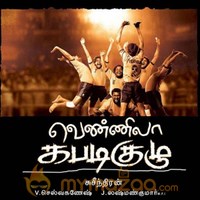 Vennila Kabadi Kuzhu Movie Reviews
Vennila Kabadi Kuzhu Review
by

MyMazaa.com
---
All hope is not lost in Kollywood! At a time when the theatre-going audience has dwindled and a general criticism prevails that quality has taken a beating in Tamil cinema, 'Vennila Kabbadi Kuzhu' has come a whiff of fresh air.
There is no bad mouthing villains and no crass comedy or needless romantic duets. Debutant director Susindhran has consciously avoided all clichéd commercial elements, yet managed to render an engrossing entertainer. But, the movie has abundant human emotions in it.
A refreshing and a different film, 'Vennila Kabbadi Kuzhu' lives up to the title, dwelling upon a group of friends for whom the valorous sport of kabbadi is everything in their life. Susindhran's engrossing screenplay coupled with pacy narration works out all the wonders. Glorifying the victory of underdogs never failed to appease the masses.
Seemingly inspired by the success of films like Bollywood's 'Lagaan', 'Chak de India' and Tamil flicks 'Chennai 600028' and 'Lee' that were made around sports, Susindhran has churned out a film which is all about kabbadi, a hugely popular sport in rural Tamilnadu.
Every character in the film but for the kabbadi coach played by Kishore is new and hence provides a fresh feel for the audience. As an inspirational coach he reminds one of a similar role played by Shahrukh Khan in 'Chak De India'. He oozes charm and elegance in the role as a kabbadi coach. A dignified portrayal by him wins the heart of the film-buffs at the first go.
Not far behind is Vishnu, the newcomer. He fits the role like a 'T' thanks to his innocent and the boy-next-door-looks. As Marimuthu he brings out on screen the emotions of a caring son, a yearning lover and a determined sportsman. The cute-looking Saranya Mohan as Vishnu's ladylove is adequate for the role. Clad in Pavadai and Thavani, she does a breezy role. A convincing cameo by her is praiseworthy.
A host of other characters including newcomers Vairavan, Nithish, Sundar, Appu Kutti, Suri and Pandi does have a role to play in the film and they resemble the youngsters we see every day in rustic villages.
The movie has threadbare storyline. In a nutshell, it is the triumph of a group of young men, who are considered the 'regular' losers in kabbadi by people in their own backyard. Touted as the fit for nothing bunch, these men go on to win accolades to their acquaintance with a skilled coach.
The entire story unfolds in a remote village near Madurai. What begins as a soft romance between a poor young boy Marimuthu (Vishnu) and a young girl (Saranya Mohan), who comes to the village soon takes a turn. Marimuthu along with his childhood friends Ayyappan (Vairavan), Sekar (Nithish), Murthy (Sundar), Appu Kuttu (Appu Kutty) and Pandi (Pandi) yearn and crave to win a kabbadi tournament. Their Vennila Kabbadi Kuzhu is popular for they never managed to win a tournament.
They manage to find themselves by chance in a State-level tournament where they are considered to bow out in the very first round. But the bunch of young men, who share different thoughts and ideas, with the help of Souda Muthu (Kishore), a professional kabbadi coach, emerge winner. But the story doesn't end here for there are more surprises that are thrown for the audience.
The highlight of the movie is debutant music composer V Selvaganesh's (son of Ghatam exponent Vikku Vinayakaram) melodious music and background score. Especially, the pacy re-recording during the kabbadi match sets up all the momentum.
Equally appealing is the art work by G C Anandhan. An able craftsman, he has created the rural village well before our eyes. Especially, the grand décor in 'thiruvizha' scenes is amazing. The soft lens of J Laxman and crispy dialogues by Baskar Sakthi brings before our eyes the innocence that prevails in the daily life in villages.
K Anand Chakravarthy, the young producer, can walk proudly for he has rendered a movie that is entertaining from the word go, sans any glamour or double entendre.
On the whole, 'Vennila Kabbadi Kuzhu' is a movie that is different from commercial clichés ushering hope and confidence in Tamil cinema.