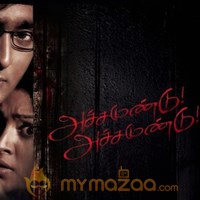 Achchamundu Achchamundu Movie Reviews
Achchamundu Achchamundu Review
by

MyMazaa.com
---
Nothing explains the essence and emotion of the movie as much as one seemingly insignificant sentence that the flick's lead lady Sneha mouths: She unsuspectingly refers to the man who is sexually attracted to her 6-year-child and says "He is old enough to be my father."
An emotion so uncommon in India and among Indians that the NRI Sneha doesn't suspect the man she invites to paint her home to be a pedophile.
Yes, you heard it right: child abuse, a theme we have so rarely seen in a Tamil film, despite India registering the highest number of such crimes in the world.
The most gripping thing about 'Achchamundu! Achchamundu!' is that it deals with a fear lurking in the country: not with ghosts or the supernatural kind, but a real, looming issue.
Everything seems picture perfect in Senthil (Prasanna)'s life, a gorgeous Malini (Sneha) and an adorable six year old Rithika. They're living the 'perfect' life, like the kind that regularly goes on tours every weekend, attends obscure birthday parties and randomly visits temples and then, a jaded corner of a wall in the basement requires a good paint, and thus enters John Shea as the painter Robertson. Things are never the same at home again.
So when was the last time you saw a Tamil film explicitly deal with child abuse? And has it ever been taken as the central theme of a movie?
The film has been written and directed by NRI Arun Vaidyanathan, and just when you think the film is going to capture the essential Americanized life of Indians there, he gives you a slice of the Tamil way of living. Often, you wonder if the so naturally shot ramblings between the couple Prasanna and Sneha have been captured with a spy cam at an NRI couple's home. Arun's vignettes of how hard the NRI couple strive to live like other Indians is a treat to watch, definitely a first time in Tamil cinema.
It is to Arun's credit that the film, with such a plausible storyline, has been executed completely by the three pivotal characters, Sneha, Prasanna and John Shea. A good few scenes have been devoted to establish the characters, and it instantly helps to connect with them. Sneha's earlier reprisal of a similar role set in another paradigm, in 'Pirivom Sandhippom', has sure helped the actress get into the skin of the character easily. John Shea's character has been intelligently scripted, and he breathes life into the film, despite being the villain.
Did Karthik Raja really inherit his dad Illayaraja's cascading violins? The background score is one of the finest you would have heard in recent times, and you really wish he does more films. The songs, USA and Mithra, are well composed, but you get the feeling the second song though interestingly made, do not gel well in the first half. It is when it is continued in the latter half, that you think the movie's mood fits it right. Lyricist Andal Priyadarshini, Sowmya and Karthik Raja ensure this is a song that'll linger long after you're out of the movie hall.
In fact, that's something you'd feel about the film itself, with a topic that's too significant to be forgotten after seeing the movie. The film will haunt you, wrench your guts, make you feel uneasy, and therein lies its success.
Bottomline: A world class flick, dealing with an utterly local issue. Intelligent movie goers will not want to miss this one.