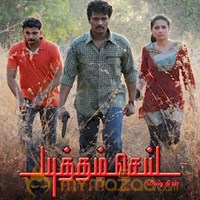 Yuddham Sei Movie Reviews
Yuddham Sei Review
by

MyMazaa.com
---
Story
The film kick starts with a series of investigations done by Cheran (Krishna Moorthy) who is a CB CID officer. He was asked by his senior officials to track a murder case but Krishna Moorthy rebuffs to take charge of the case as he wants to investigate his sister's case, who goes missing. But being forced by his officers he accepts to investigate the murder case along with his two of his officers Dipa Shah and Yugendran.
The serial killer who does all these murders gives Krishna Moorthy and his team a shock by killing more people. He and his team will track the case rigorously and find some unexpected things which were involved in the murder case. Who is the man behind the murder mystery? How is his sister kidnapped and where is she found? Need to seen on the silver screen.
Performances:
Cheran is a perfect fit. He has so far performed delicate roles in his earlier flicks but his performance in the role of a cop is handled extremely well. Especially during action sequences he was impressive.Dipa Shah along with other casts has done well.
Director Mysskin again proved his mettle by coming up with a thriller and handled the plot very interestingly. The surprising twists during investigation will keep the audiences on the edge of seats and watch.
Ameer and Neetu Chandra's item number 'Kanni Theevu Ponna' is fabulous,
Debutant cinematographer Sathya gave his best, each and every scene totally gives the feel of a thriller movie effect.
Music given by debutant K(a) Krishna Murthy s is okay.
The first half of the film moves on a rapid pace and doesn't have much to reveal. But the second half engages the audience and has maintained the suspense till the end.
Editor Kahin's hard work has worked out magic for the film. Thrillers are real test for editors and he carried the much needed suspense and thrill throughout the movie.
The attention-grabbing story and screenplay, along with few good and firm directions and editing, made the movie a real thriller flick with some good technical values.