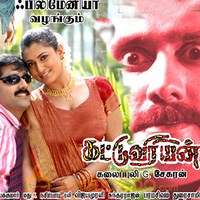 Kattuviriyan Movie Reviews
Kattuviriyan Review
by

MyMazaa.com
---
If student politics was the crux of Karan's earlier venture 'Thee Nagar', the actor is back with a strong message in 'Kathavarayan'.
Stay away from liquor and drugs. You will lead a happy and healthy life. This forms the crux of Karan's 'Kathavarayan'. Debutant director Salangai Durai has dished out a commercial entertainer which laced with this strong message.
It's Karan all the way as he strikes the right chord playing a illicit liquor vendor in the first half, who reforms to save a girl from the hands of a drug-pedler. Unfortunately at many a places, the movie goes on a preaching mode and there are less drama elements to sustain the interest of the audience.
The movie revolves around Kathavarayan (Karan), who sells illicit arrack in Hogenakkal. Though he is involved in arrack trade, he is a man with golden heart. Malathy (Vidisha), a student, comes to the village as part of her NSS project. She vows to end the arrack menace in the village and takes efforts to arrest Kathavarayan. Thanks to her efforts, Kathavarayan gets arrested and lodged in prison in Chennai.
Call it fate, Malathy is arrested for no fault of her in Chennai. Her efforts to expose drug-pedlers in Chennai backfires. They hatch a conspiracy and Malathy falls a prey to it. She gets arrested for possessing drugs and lands in prison.
Kathavarayan comes out of jail to avenge Malathy. But comes to know her real intentions and the trouble she is facing. He masterminds a plan and joins the gang selling drugs and eventually exposes them only to save Malathy.
Karan has come up with a matured performance. He is good in dance and stunt sequence. His diction of the Kovai Tamil also deserve a special mention. Debutant Vidisha does a decent job. She plays her part well. Vadivelu plays a money-lender who lands in trouble for no fault of his.
The cast also includes Sundara Travels Radha, Kadhal Dhandapani, Alex among others. Dheena has scored the music which are very loud.
Salangai Durai deserve a pat for coming out with a strong message. But had he cut down on preaching, the movie would have been different.