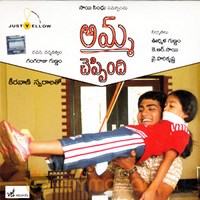 Amma Cheppindhi Movie Reviews
Amma Cheppindhi Review
by

MyMazaa.com
---
In life, reality differs a lot from what it seems. And reality is seen not with the eyes but with the heart. It is a nuanced idea, and it gets a touchy amplification in Amma Cheppindi. It is a story of a youngster whom the world gives up as a nitwit. But is he really?
His mother, who understands his heart, thinks otherwise. It all work up to a wonderful denouement that life is lot strange than we believe or even can imagine of.
Amma Cheppindi is a film of truisms. Philosophical at one level, but equally entertaining at another, Amma Cheppindi is a movie for those who take their cinema seriously. To be sure, the plot takes time to unfold. To be sure, there was a similar theme attempted in Hindi not long ago. But what makes Amma Chippindi enduring and endurable, is the director Gunnam Gangaraju has not compromised on his core theme. Backed by inspired performance from Sharvanand and Suhasini --- the mother and son protagonist --- the film gives you something to think about. In a sense, it also gives you a hope in life to hold on to.
The story is more cerebral and tender. It revolves around Bose (Sharvanand). The consensus in the Srihari Kota residential blocks is that he is a kid trapped in an adult's body. In other words, he is seen as a moron as he fails in academics. His dad (Pawan) too does not have high hopes on him. In the event, it is his mom who believes that he is capable of bigger things in life.
In the meanwhile, it emerges that a brand of terrorists have seeped into the high-security and sensitive Srihari Kota range. An effort is on to scuttle India's space programme (how ironic that we should have a GSLV failure just recently!). But how are the malcontents to be trapped. It is Bose who does the trick. How? Well that would be giving a wonderful climax that lifts the film to a new high.
Sharvanand as the dimwit Bose but a heart of gold is in one word outstanding. Just a few films old, the young man gives a performance that would do veterans proud. Be it his body language or the dialogue delivery, he gets it all nice and right. He makes you cry, smile, snigger and play with his amazing portrayal of an enigmatic young man.
Suhasini as his mother shows what experience and excellence is all about. As a vulnerable mother full of heart and hope, Suhasini brings out all the right feelings.
Shriya Reddy too seems an inspired choice. Others like Pawan Malhotra, Kota, Suman get their roles right.
M M Keervani's music is another big plus of the movie. He decidedly creates the right tonal background for the film to fall back on. Gunnam Raju son, Sandeep Gunnam, has handled the camera. He seems to have visualized the right images for his dad's ideas.
And what of the direction itself? Well, Gunnam shows the right technique and technology for a film of this genre. He has given a movie that is like a teddy bear --- warm and cuddly..