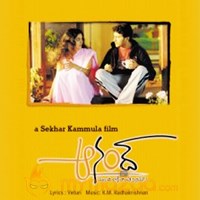 Anand Review
by

MyMazaa.com
---
It is an old saying that art movies are art movies, commercial ones are commercial, and the twain shall not meet.
What will happen if they try to?
Well, it will be a mismatch like it has been in Anand.
Director Shekar Kammula, who is an award-winner, sure has the nous and gumption to make a sensible film. But he should have known to stay with one genre.
Anand, in the event, is neither here nor there.
The story is about a strong-willed girl Roopa (Kamalini Mukarjee), a modern-kind of girl working in an ad agency. She is also good in tunes and teaches them to local kids. Enter Anand (Raja). He is also a yuppie from the Yankee land.
Roopa€™s walks out of on the day of her marriage after her to-be in-laws make unseemly demands of money and gold. Anand is floored by Roopa€™s courage and wants to marry her for her convictions.
The movie is then all about how this stylized yuppie tries to get across his love and what happens after that. It is all said in a fun-laced way.
It is a simple and cute tale told for the urban audience. There is nothing, what the trade calls as, nativity here.
But it is obvious Kammula has made some obvious compromise to make the fit into the commercial matrix. The songs are a good example of this. Though they are soulful and almost brilliant, they don't exactly fit into the narration.
The comedy too is slightly high-brow, in the sense the common man would find it difficult to relate to. The story evolves pretty slowly and the audiences used to razzmatazz of commercial cinema may find the script predictable. The artistic concept of how you tell a story is more important than the story itself is hardly going to work here.
But Kammula has a spunky director in him. He has wrested some fine performances from both Kamalini and Raja. The former seems such a sweet angel. She is pleasant and her acting style pleasanter. Raja too is hardworking and fits the role of a yuppie to a T. The technical aspects of the film are first rate --- good artwork, soft music and easy camerawork.
Directors like Shekar Kammula need to be encouraged --- they sure know how to tell a tale neat and straight. It is only when they try to crossover, things become difficult.
The examples for these are all there in Anand itself.