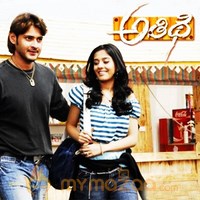 Athidi Review
by

MyMazaa.com
---
Lots of hype has worked well for Mahesh Babu€™s Athidhi, as the film is a treat for all his fans. There is everything that one can expect from a Mahesh film -- plenty of well choreographed action with amazing visual effects and stunts, sentiment and of course oodles of romance. Post Sainikudu€™s debacle, Mahesh plays safe sticking to the mass formula yet again in Athidhi. Only this time, he has a Bollywood import in Amrita Rao as an added attraction.
Mahesh plays the orphan in the title role taken home by Amrita€™s (Amrita Rao) parents, who are later murdered by a psychopath. Athithi is implicated in the murder and sent to jail for 13 years. Once out, it becomes his mission to trace and kill Kaiser, the boy who had murdered Amrita€™s parents. Obviously, the plot has lots of scope for action. The romantic element comes in the form of Amrita who is an art student in Delhi. Though the twosome meet in Delhi, the story moves to Hyderabad and it is here the rest of the story unravels.
There is a love story interwoven into the story, yet, Athidhi is essentially a revenge drama and the action scenes are the main highlight of the film. The entire look of the film is rich and the makers have spent ostensibly on sets for the song sequences. The only drawback is the climax, when Mahesh goes on a killing spree. While the makers have used special effects to make it look less gory, it nevertheless gets a bit too violent.
Mahesh is his usual best, though he seems to have €˜chubby cheeks€™ in a couple of close-up shots. He looks cool with his much talked about hairstyle, where he got Bollywood stylists to do the highlights and cut for him. His clothes are quite appealing vis-à -vis Amrita€™s, who appears a bit garish in some scenes. Amrita Rao is her usual, chirpy, bubbly self all along, but loses out to Mahesh when it comes to charm. She has a couple of matrix stunts, but does not quite deliver the punch!
Ashish Vidyarthi, who seems to be the flavour of the season in Tollywood, as far as the villains go, sports a Rastafarian look and is sufficiently menacing. The villain Murali Sharma, who plays Kaiser and well remembered from his role in Main Hoon Na, is good too! But a huge disappointment comes in the form of Malaika Arora. She looks tired and lacks the oomph of an item girl.
In all, the film is reminiscent of Pokiri. Yet, director Surender Reddy handles the subject well and does not let the action part overshadow the rest of the story. Music is a bit of a letdown, barring a couple of songs such as Valla valla.
Athidhi has everything that one hopes to see in a Mahesh film. Then of course, there is Mahesh himself at his irresistible best. What more can one ask for!
Cast: Mahesh Babu, Amrita Rao, Ashish Vidyarthi, Nazir, Murali Sharma
Music: Mani Sarma
Producer: G Ramesh Babu
Director: Surender Reddy
Released on: October 18, 2007