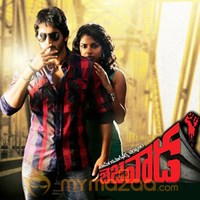 Bejawada Review
by

MyMazaa.com
---
Story
Kaali Prasad (Prabhu) is a top gangster in Vijayawada. His brother Shankar (Abhimanyu Singh) wants to get into his brother's shoes but Kaali always prefers another follower Vijay Krishna (Mukul Dev). To gain the supremacy, Shankar murders Kaali Prasad in a conspiracy and subsequently kills Vijay Krishna too. Shiva Krishna (Naga Chaitanya), a college student and younger brother of Vijay Krishna enters the scene and tries to take revenge on Shankar. How he does that and what are the hurdles he encounters in this process forms the rest of the story.
Analysis
Bejawada movie is an absolute crap! Debutant director Vivek Krishna has miserably failed to make in what should have been a thrilling revenge drama. Vivek ended up making a 'very powerful' script into a poor fiction anecdote. Thus, Vivek makes Bejawada movie a damp squib in the process of tailoring an action drama. Naga Chaitanya is a huge liability to this movie as he still looks boyish. The killer instincts are clearly missing in him as the lead character looks pale right from the word go.
Bejawada movie lacks the required rigour and tempo. When a movie is tipped to be a revenge action drama, particularly for a famous script, the treatment and storytelling is minimum expected. However, Vivek Krishna's directorial blunders and Ram Gopal Varma's CREATIVE INPUTS make the Bezawada movie a ludicrous and absurd script. The screenplay is really awful; the flow of thought is clearly missing as the scenes involving Brahmanandam and Amala Paul look like they have been purposefully inserted. Naga Chaitanya once again chose a role that's larger than his life in trying to become an action hero.
Plus Points
Cant' find any
Minus Points
Horrible direction
Poor screenplay
Lack of tempo
Mistimed Songs
Performances
Naga Chaitanya is a misfit for the character. He should not have essayed this role (which demands lot of action) after his Dhada' movie disaster. He needs to show lot of character and energy to do action flicks like these. However, such roles are not advisable to him at this point of his career. Mind you, even Akkineni Nagarjuna did quite a few action movie scripts before starring in 'Shiva'.
Amala Paul looks as a perfect match to Chaitu but she has a very little role to play and thus was wasted. Abhimanyu Singh and Mukul Dev, Kota, Subhalekha Sudhakar, Ajay are perfect in their roles. But Prabhu looks witty, particularly when he's dancing.
Final Word
Bejawada movie review: Bezawada movie talk will surely dent Naga Chaitanya's image. On a concluding note, Bejawada movie looks like an ordinary affair. Poor direction, mistimed songs, etc, etc, etc, tests the audience patience.