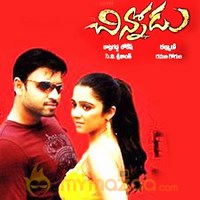 Chinnodu Review
by

MyMazaa.com
---
Kanmani had directed 'Naa Oopiri' earlier with Vadde Naveen. Though the film did not do well at box-office, the director got compliments from the critics for molding the story in a nice way. Now, Katragadda Lokesh had roped him in for 'Chinnodu' to promote Sumanth once again with mass hero image. At the same time, the film also promised plenty of glamour with Charmi in the female lead. Kanmani had once again proved his creative skills in the film and at the same time Ramana Gogula's music added flavor to it. Sumanth played the role with good ease his character evoked good sympathy among the audiences.
Chinna (Sumanth) is an orphan and was brought up by a police officer (Chandramohan). Chinna goes to jail on charges of killing the younger brother of his foster father. After his release he straight away goes to his house only to be rejected by every one in the family. Chinna's foster father has a son Sanjay (Rajiv Kanakala), who is also a circle inspector and a daughter Yamuna and Chinna treats them as brother and sister, but they did not. So, after returning from the jail, he takes shelter in a cycle/motorcycle stand of a railway station. He becomes a godfather for the poor people as he saves them from goons with his muscle power.
Anjali (Charmi) joins him in the upper portion of his house as a co-tenant. She works in police commissioner's office. Chinna falls in love with her in the first sight. After a few days, Anjali realizes that Chinna is the brother of her close friend Yamuna and how his family rejected him. She also falls in love with him and tells him to shed his goondaism to become close to his family. But the situations that come in his life did not allow him to do that.
In the process, he becomes enemy to Srisailam (Rahul Dev) and Bejawada Naidu (Ramaraju). Srisailam's brother-in-law Ranga (Prithvi) gets death sentence in a murder case and gets killed in the hands of police while trying to escape. Srisailam decides to take revenge against Sanjay and thought of teaching him a lesson by killing his brother-in-law (Raja Sridhar) immediately after the marriage of his sister. Learning that Srisailam is planning to kill his brother-in-law, Chinna goes there and tries to prevent it. In the process, Chinna's sister kills Srisailam. Again Chinna takes the blame on him to go to jail. Then everyone comes to know that Chinna underwent jail term despite he is an innocent and he saved his foster mother from jail term. As the murder was not preplanned but to save his family members, the court sentences him to two-year jail term and he returns soon to get united with Anjali. The film ends on a happy note.
Sumanth's excellent performance with minute change in expressions, especially his performance in the expressions highlighted his talent in acting skills. He had also shown good ease both in dance sequences as well as those with sentimental touch. He was able to attract the masses with good performance in action scenes as well. Charmme's glamour is another highlight in the film and as usual she did not feel shy in showing her skin in dances. Kanmani filled good melodrama in the first half and mass elements in the second half. The film runs with good twists as well. Music director Ramana Gogula, besides giving good tunes, worked hard in re-recording to make the film quite impressive. Good cinematography by Jeswant and excellent choreography of fights by Kanal Kannan made it further attractive. Though the film opened with average talk in cities, surely it will do a good business in B, C centres.
Cast: Sumanth, Charmi, Chandramohan, Brahmanandam, Ali, Venumadhav, Dharmavarapu Subrahmanyam, MS Narayana, Rahul Dev, Raghubabu, Sivaji Raja, Ramaraju, Vinay Prasad, Balayya, Malladi Raghava, Raja Sridhar, Naini & YV Ratna Kumar
Credits: Music €" Ramana Gogula, Dialogues €" Yalamanchili Sridhar, Cinematography €"Jeswant, Editing €" Kotagiri Venkateswara Rao, Lyrics €" Sirivennela and Bhuvana Chandra, Action €" Kanal Kannan, Presents €" Sri Sai Balaji Arts, Producers €" Katragadda Lokesh and CV Srikanth, Story, screenplay and direction €" Kanmani
Banner : Polygon Pictures Pvt Ltd.,