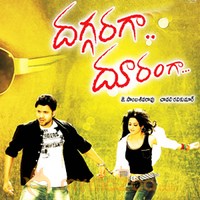 Daggaraga Duranga Movie Reviews
Daggaraga Duranga Review
by

MyMazaa.com
---
Story:
Gautham (Sumanth) works as a creative director in an Advertising Agency and impresses his bosses with innovative concepts. While working for one of his concept, Gautham creates a new face through the photoshop and names it as Kamakshi. Unfortunately, there would already be a similar girl in reality with the name Meenakshi (Vedika), whose engagement gets cancelled due to the sleazy ads. She comes to Vizag to take action against the ad agency. On the other hand, a group of terrorists' plans to destroy Hyderabad and Zarina (Sindhu Tulani), a journalist investigates on this issue and plans to expose the facts behind terrorists' attacks. What happens to Gautham, Meenakshi and Zarine lives is the rest of Daggaraga Dooramga.
Performances
Sumanth delivers a mediocre performance. As the film transforms from romantic comedy to thriller, the characterization needs intensity but the director failed in designing the lead characters role. Vedika looked gorgeous and has performed well in her limited role. Same is the case with Sindhu Tulani. Brahmanandam is at his best and is the saving grace of the film. Satyam Rajesh, Krishna Bhagavan, Pragathi are acceptable. Raghu Babu is regular.
Technical Analysis:
Raghu Kunche's music is good but the odd placement of songs takes away your interest though pictured well. Cinematography is fine and Editing is alright. Screenplay moves on a predictable note, even the dialogues in the movie remembers you from previous films with terrorism backdrop. Ravikumar's direction is poor.
Analysis
We have seen many terrorism backdrop films from decades and Daggaraga Dooramga is no different to the old ones. The movie starts of on a distinct note but as the story progresses, it moves on an extremely predictable note. The film lacks reality and logic and has many loopholes. While the first half of the film has few engaging moments also packed with inappropriate comedy scenes, the second half moves on extremely predictable lines, which fails to engage the audiences.
Final Verdict
'Daggaraga…' to boredom & 'Dooramga…' to uniqueness