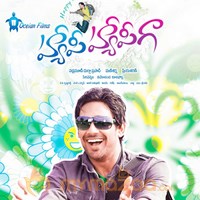 Happy Happyga Movie Reviews
Happy Happyga Review
by

MyMazaa.com
---
What has happened to Varun Sandesh after a great start in films like "Happy Days" and "Koththa Bangaru Lokam"? This question is sure to strike viewers when watching a torturous film like "Happy Happyga" which drags on interminably from the first reel. The proceedings becomes unbearable till the last few minutes where the director adds some twists in the narrative. But then the film ends with a tame climax, leaving viewers feeling terribly disappointed with this much hyped film.
Newbie director Priya Sharan, who has written the story, has shown lack of imagination in crafting this film. This film can be slotted as the most boring ever in recent times in the Telugu film industry. The storyline lacks logic, the narration is vapid and the so-called comedy sequences look very cheap. The director has also failed to get decent performances from the artists.
The only saving grace of is Mani Sharma's music compositions and some good lyrics penned by Sirivennela Seetharama Shashtry. Otherwise the film is half baked and clearly a big let down.
The story: Santhosh manages a company that wants to keep everybody happy. He meets a US returned girl Pooja and wants to love her. But Pooja does not believe in the concept of love marriage as she has been shattered with the early divorce of her parents. Santhosh comes up with a plan to woo Pooja and hands over a bunch of love letters which have been written to his dream lover. He also identifies that dream girl. Pooja takes Santhosh's love letters to the dream girl Priya and tries to convince her to marry Santhosh. Priya is the sister of underworld don Suri.
Suri compels Santhosh to marry his sister as she is affected by a terminal disease. What happens later forms the rest of the story.
The two heroines – Vega and Sharanya Mohan – have such limited scope in their roles that you wonder why such talented artists have been wasted in the film. Varan Sandesh himself comes out as an actor who is yet to perfect his Telugu accent. His expressions leaves much to be desired. Vega looks attractive, but her performance in the role of Pooja is below even ordinary levels. Sharanya Mohan looks decent. The dubbing done for the two girls is flawed. Ali's comedy provides some relief but at times it stretches too much.
The camera work is ordinary. Mani Sharma comes out with some good tunes. The technical work is ordinary compared to the standards seen in Telugu films.
"Happy Happyga" is an ordinary flick and can be seen only if there is no other better alternative.