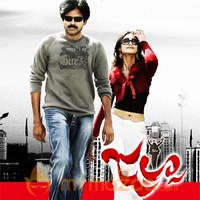 Jalsa Review
by

MyMazaa.com
---
When Mahesh Babu starts his narration of the story he has the rapt attention of the audience. He introduces his friend Sanjay Sahu (Pawan Kalyan). Sanjay, a student falls head over heels for his classmate (Kamalini Mukherjee), but a few shots later Sanjay is shown attending the marriage function of his lady love with a stranger. More than a year later Ileana enters his life and the story gets interesting from then on.
Cupid takes the form of a fight which brings Pawan Kalyan and Ileana together but then Parvati Melton too developes the same feeling for the hero, but sadly her feeling are not reciprocated by Pawan. What follow next are some hilarious scenes between the hero and heroine who truly have breathed life in to this film. Pawan has not looked so handsome earlier and Ileana looks like a princess. All the scenes between Pawan and Ileana have weaved magic on screen. They look stunning together.
Mukesh Rishi pops on to the screen and he is all out to nail the hero at any cost, surprisingly Rishi does all his moves sitting in a jail. Towards the end of the first half of the film another facet in the life of the hero is portrayed. Second half gives a detailed account of the skeletons in the cupboard of the hero in his past life. He has had a bad childhood and was also part of a naxalite wing. But we are kept wondering how he could so easily dirft in and out of a notorious group of naxalites like playing hide and seek.
Well, if you want to know what happens in the end, go grab a ticket and wotch the film for youself!
Pawan Kalyan has done a good job in doing almost all the scenes to perfection. He takes a huge share of the applause in the comedy tracks with the heroine as well as with Bhramanandam. Pawan looks delectable in the dance sequences as powerful in the stunt scenes.
Ileana looks every bit chic. She looks stunning through out the film and glamourous in the song sequences. She has also done well in the romance scenes with Pawan. They look like a true couple.
Kamalini Mukherjee and Parvati Melton have not much scope to perform. The star of humor Bhramanandam has proved yet again that he is a reservior of ideas.
The director seems to have missed slightly on concentrating on the story. The cinematography is fantastic and most of the songs have been received well. You can watch 'Jalsa' and have your money's worth if you are the type that enjoys films with out the element of logic.
It sure is your money's worth!
Cast : Pawan Kalyan, Ileana, Parvathi Melton, Prakash Raj & Bramhanandam
CREDITS:
Banner : Geetha Arts
Music Director : Devisri Prasad
Producer : Allu Aravind
Director : Trivikram Srinivas
Released on : 02nd April, 2008