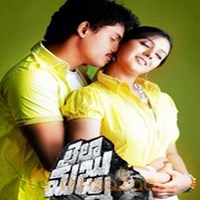 Laila Majnu (2007) Movie Reviews
Laila Majnu (2007) Review
by

MyMazaa.com
---
Laila Majnu - Story of a love pair that won elders' confidence
It is very common among the present generation of youth to fall in love. While some friendships between a boy and girl remain mere attraction, some turn to be true love. Even if a boy and a girl are in real love, several factors like caste, creed, religion, money and stature play spoilsport in their love story.
While some lovers could succeed by eloping to some place and lead a happy life but it was found that it was not correct in many cases. Some lovers who could not convince their elders, end their lives in frustration, which was also incorrect and improper.
Very few lovers try their best to convince their elders and get married with elders' consent, which was the correct procedure. Very recently, a film 'Bommarillu' came with a similar concept and proved a big hit. Now, Anji Sreenu prepared a story almost on similar lines but with a difference in the movement of the story.
Siddhartha @ Siddhu (Harivarun) visits India on a vacation while pursuing his education in the US. Siddhu loves Indian culture and tradition very much. Hence, he loses his heart to Maheswari @ Mahi (Jyothikrishna), at first site who looked very traditional. On the other hand Siddhu's brother Vicky (Raghu) and Mahi's brother Naidu (Brahmaji) are bitter rivals and always fight each other with their friends.
Siddhu reveals his love straight to Mahi. However, she fears threat to Siddhu from her brother. Learning the friendship between Mahi and Siddhu, Naidu thrashes Siddhu when he visits their house to meet Mahi. Irked over this, Vicky attacks Naidu and attempts to stab him. But Siddhu in a bid to prevent that attack takes the injury. Realising the true love between them, Naidu and Vicky patch up their differences. But their elders who oppose their love and marriage. Siddhu proposes an idea to convince them.
As per the idea Siddhu would stay with Mahi's parents and Mahi with Siddhu's parents. After observing them and their character for some days, they could agree for their marriage. The elders agree to the idea but with some conditions. Both the hero and heroine win the love and confidence of the other families. When the elders were about to accept their marriage, their brothers unexpectedly clash with one another. This separates the lovers again.
As they are about to get separated, their brothers question their parents as to what made them to reject their marriage. As they reply that it was because of them, both of them attempt suicide and unite the lovers. Realising their folly and the love between the couple, the elders accept their marriage and the film ends on a happy note.
Hero Harivarun, though a novice, being a national gymnastic champion, showed good ease in dances. But the lead pair failed to impress the audiences with their body language. They should also improve a lot in the dialogue modulation.
The heroine looked better in traditional attire than in modern outfits. A couple of songs canned in Switzerland are worth watching and the cinematographer made good use of his camera in shooting the songs.
The director gave equal importance to all the characters. There are no villains in the film, but the situation turns a villain to the lead couple. The movement of the story was also quite lagging and the direction in certain scenes was looked immature.
Editing should have been further sharp as several scenes looked not very necessary.
Comedy track with MS Narayana and Chitram Sreenu, and another comedy track with Telangana Sakuntala, Babu Mohan, Raghu and Brahmaji is okay. MM Srilekha's songs are melodious. The choreography of action scenes was also looked stylish.
Cast: Harivarun, Jyothikrishna, Narra Venkateswara Rao, Chalapati Rao, Murali Moha, Brahmaji, Raghu, Surya, Chinna, Babu Mohan, MS Narayana, Chitram Sreenu, Babloo, Sana, Sudha, Prabha, Hema, Telangana Sakuntala and others.
Credits : Music ?? MM Srilekha, Executive producer ?? Raghutu Satyanarayana, Presents ?? Baby Sahiti, Producer ?? Bollineni Suresh Naidu, Story, screenplay and direction ?? Anji Sreenu