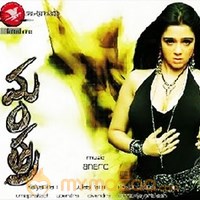 Mantra Review
by

MyMazaa.com
---
Horror as a genre was not very hot when it came to the directors in the Telugu industry. But thrillers and horror films are something that have become the new-age cinema for Telugu audiences as the success of A Film by Arvind has proved. Mantra too falls into a similar genre. What sets it apart from the earlier mentioned film is the suspense it maintains as to whether it€™s a supernatural element or a human hand that kills people in the spooky villa named Mantra Nilayam.
Well, does it scare? The film makes no pretensions. The best thing about the film is that it does try too hard to establish anything. The director just lets the events flow and that is where the strength of the film lies. The story simply takes you around and the viewer simply goes along trying to figure out who is behind all the scary deaths at Mantra Nilayam.
The film starts off with the director trying to establish the background of Mantra (Charmme), as a hapless girl who is caught in a debt trap. Left with no means to repay, she tries to find buyers for her farmhouse. However, given the mysterious deaths that take place there and its spooky locales, there are no buyers, barring an unknown professor who has a sole condition. The deal is that if Mantra gets people to stay for at least three months, the professor promises to buy the property. So, begins her sojourn of trying to find tenants for the house.
Here comes Hero (Sivaji, yes his character€™s name is Hero), who is the sidekick of an extortionist. Finding a lucrative deal in the farmhouse, he offers to stay in the house along with his friends. But it€™s not before long, that his friend Muniswamy (Chitram Srinu) is murdered. Naturally, Hero now has a reason to find out what€™s behind the unnatural incidents taking place at Mantra Nilayam, apart from getting a cut in Charmme€™s profit. What happens next is for you to find out, naturally.
As for the cast, credit goes to Charmme, for doing a role, which is least patronizing to any leading lady. It has lots of substance, but does not have the glamour quotient that the commercial heroines cannot do without. So, you have Charmme at her no-make-up best and wearing clothes a la a girl next door. She is slim in some outfits, but looks quite plump in others. But the effort is to make her look as real as possible and the director and Charmee succeed only too well. She does act her part perfectly as the simple working girl, faced with a crisis, which in turn puts her face to face with death. She comes off as a girl who has the spirit to figure out what€™s happening, instead of shrieking at the word go.
Sivaji, Kausa, 'Chitram' Srinu, Jeeva, all play their parts convincingly. Thanksfully, none of them go overboard.
The credit has to go to the director to keeping the characters realistic and not indulging in cheap thrills by including unnecessary characters or sequences that would mar the flow of the film. Even when it comes to the characterization of Charmme or Sivaji, he does not go overboard and simply tackles them as two individuals facing a common crisis. Another strong point is the lack of hysterical shrieks and high-pitched drama that is usually associated with films of such genre. Even the climax is rounded off rather crisply.
Cinematographer Sivendra and music director Anand don€™t let down Thulasi Ram and come up with good work to keep up the film€™s impact. Of course, we have seen some shots in A Film by Arvind earlier, but they are nevertheless well-done and that€™s where Mantra scores.
The picturisation of the songs is a huge disappointment though. When you listen to the audio, you tend to imagine exotic locales and saucy visuals, but what you get is a rather cheesy number, shot tackily with unknown faces. Even the Maha maha number, does not go beyond what was shown in the promos.
To put it short and sweetly, Mantra is a film you wouldn€™t regret watching. However, don€™t try to find out what the climax is. Charmee is at her courageous best, both in terms of her character and her career. Go for it. If not anything, it tries to be different and that€™s what makes it tick.
Cast: Charmee, Sivaji, Jeeva, Chitram Srinu, Kausa and others
CREDITS:
Producers: Ravi Prakash, Kalyan Ram
Camera: Sivendra, Music: Anand
Director: Osho Thulasi Ram
Release Date: December 14, 2007