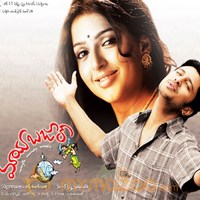 Maya Bazaar Movie Reviews
Maya Bazaar Review
by

MyMazaa.com
---
Several mythological films have come in the Telugu celluloid world. Social fantasy films are also not new to the Telugu audiences. However, the character of Kubera has never appeared on the screen earlier.
Award-winning director Indraganti Mohanakrishna has chosen that character to make a total entertainer. Moreover, the film has a good message to the people in general namely, one should be kind at heart and help the needy. It is not the question of just money. If one is good at heart, money will automatically come by God's grace. At the same time, there is an indirect message to the TTD Trust Board that it should spend the crores of rupees earned by the Lord through Hundi collection and other sources, for the welfare of the people and save them from hunger.
G Srinivas aka Srinu (Raja) is the son of a cotton farmer, whose family ends life in pact due to heavy debt burden. However, Srinu survives and earns a meager income as a driver. Though he doesn't have money, he is ready to share whatever he has with orphans. Anupama (Bhoomika) meets Srinu in an accident and she keeps shadowing him. Bhaskar (Ali) is his roommate. Srinu accidentally meets Siri (Baby Harshita) at the airport, who was abandoned by her father, and takes her with him. Srinu learns that she has a heart problem and the surgery costs Rs 3 lakhs. To fulfill Siri's wish, Srinu takes her to Tirupati and starts cursing the God. At this juncture, Lord Kubera (SP Balasubrahmanyam) comes to his rescue.
Kubera decides to do him a favour to get relief from a curse (Sapa Vimochanam) given by Gouthama Muni. Later Srinu becomes a rich man and spends 50 percent of his profits to eradicate hunger. Anu joins Srinu. Kubera goes to Srinu's house and works there discreetly. Anu and Srinu fall in love with each other. Kubera gets a crooked idea to take away the life of Srinu for an early relief from the curse. Srinu pleads with Kubera to give him a week's time. Later, Srinu reveals to Anu that he is going to die in a few days and asks her to take care of Siri. But Anu lays down a condition that he should marry her. On the D-Day, Kubera comes to Srinu to take his life, and finds that Srinu is getting married.
Kubera is forced to act like the bride's father. After marriage, Kubera comes to know that Anupama is none other than his daughter and Narada (Dharmavarapu Subrahmanyam) enacted the entire drama, with the assistance of Kubera's wife Vruddhi (Bangalore Padma) and their servant Virupaksha (Sudarshan). Srinu then asks Kubera to do him a favour, i.e., stop taking the money every Saturday from Tirupati, as part of the collection of interest from Lord Venkateswara. Instead, it could be spent here on earth which would save thousands of people from hunger. With this, Kubera gets relief from Gouthama's curse. The film ends on a happy note.
A gripping story, excellent screenplay, hilarious comedy by SP Balasubrahmanyam and others, plus the melodious music make the film worth watching. The film has a smooth flow and has been made in such a way that the entire family can watch it together. The director has shown his intelligence in selecting the right kind of artistes for every character. Not even a single character seems unnecessary. Radhakrishnan's tunes are enthralling. Choreography of the songs is also good. The graphics used in depicting the Pushpaka Vimanam and the climax that shows Lord Venkateswara€™s statue are perfect.
Cast: Raja, Bhoomika, Baby Harshita, SP Balasubrahmanyam, Tanikella Bharani, Dharmavarapu Subrahmanyam, LB Sriram, Ali, Duvvasi Mohan, Gundu Sudarshan, Raja Sridhar, Uttej, Jayalalitha, Bangalore Padma and others.
Credits: Dialogues €" Jayakumar, Indraganti Mohanakrishna, Story €" Jayakumar, Lyrics €" Veturi and Sahiti, Music €" KM Radhakrishnan, Cinematography €" Jawahar Reddy, Editing €" Nagireddy, Presenter €" RKK Films International, Producers - B Satyanarayana and Rajkishore Khaware, Screenplay and direction €" Mohanakrishna Indraganti.
Banner: Satyam Entertainments