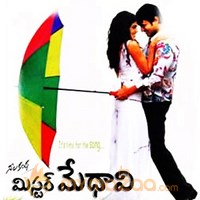 Mister Medhavi Movie Reviews
Mister Medhavi Review
by

MyMazaa.com
---
A film by Neelakanta is bound to raise expectations. Then, there is Genelia, who has been winning best actress awards at various awards dos for Dhee. Known for his heroine-centric films, you only wanted to watch what Neelakanta did to his Sweta (Genelia) in his latest offering 'Mr Medhavi'. Well, for starters, Sweta has large, beautiful eyes, cute smile, oodles of attitude and business acumen. She is the today€™s girl, comes back to India from Canada like many NRI kids these days. So, then, what does Neelakanta do to his heroine in this movie?
He drives home a very important point that is lost on many of the younger generation kids these days -- To have the right sense and sensibilities and to live life king size. Well, in our heroine€™s case, it would be living life queen size. And that Sweta does. Now, where does our poor hero Vishwak (Raja) fit in? In driving home the point to us (read audience) obviously.
The film starts off in Koduru, where a young Vishwak meets Sweta who comes from Canada for a vacation to her grandmom€™s place. Incidentally, she goes to school for the time being at the local school, where she meets Vishwak. That€™s when love blossoms. At least for Vishwak and he grows up loving Sweta, heart and soul.
However, given his humble background, life teaches him to be calculated in whatever he does. He soon masters the art of making the best for himself out of any given situation. Destiny brings him to the company that is owned by Sweta€™s father. Here, the old friends meet once again. But this time around, Sweta is the boss€™s daughter and dreams of setting up a pharmaceutical company. That€™s when Sweta and Vishwak get to work and spend time together.
While Vishwak works his way towards making Sweta love him, she springs a surprise on him by announcing that she is head over heels in love with Siddharth (Sonu Sood), a millionaire-turned-HR guru. Seeing his game plan boomerang, Vishwak tries his best to take Sweta€™s mind off Siddharth. But the more he tries, the more she is convinced she has found her ideal man. Whether Mr Medhavi€™s calculations work out for him or not is something that you will have to check out for yourself.
It is a very good attempt by Neelakanta. Like all his films, this film too tries to carry a message within the domain of commercial cinema. But somewhere along the line, the film fails to excite the viewer. Though the narrative style used makes you wonder how the movie would be, by the time it€™s over, you wish it was over sooner. Raja suits the role of the calculative yuppie really well. His soft features work well for the role of a smooth operator. Genelia is good as Sweta, though Sonu Sood looks like a lost pup in almost all his scenes.
The music is another drawback of the film. There is a sprinkling of comedy here and there, but had Neelakanta tried more of it, it would have kept the audience indulged. Mr Medhavi, despite its laudable plot, lacks the drama to keep the audience enticed. But if you have liked Neelakanta€™s films in the recent past, then may be you should attempt this one too!
Cast: Raja, Genelia, Sonu Sood, Suman, Hema, MS Narayana, Dharmavarapu Subramanyam and others
CREDITS:
Banner: Lifestyle Art Pictures
Producer: Bodduluri Rama Rao
Director: Neelakanta