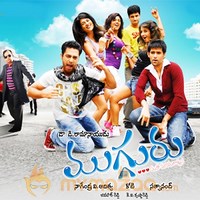 Mugguru Review
by

MyMazaa.com
---
Story
Pawan (Navdeep), Maruti (Rahul) and Anji (Srinivas Avasarala) are three friends who try to settle big in life despite no good educational or financial background. They plan to kidnap JP (Ahuthi Prsad) for making money but JP gets heart attack and Pawan helps him out of danger on time. The former, who was impressed with Pawan for his kind nature offers jobs to the three guys in his company situated in Malaysia. He also promises to makes them his son-in-laws by getting them married to his daughters Shraddha Das, Sanjanna and Soumya. How does Pavan, Maruti and Anji impress JP and his three daughters is the rest of the story.
Performances
Navdeep has delivered a good performance. He did his role with ease and his expressions and timing are laudable. Rahul of Happy Days fame is okay while Srinivas Avasarala has hardly any role in the film. He delivered what he was supposed to do in his limited role.
The roles of the leading ladies are poorly etched and their characterizations are limited to shaking their leg for songs and a couple of scenes. Shraddha Das paired alongside Navdeep and she looked hot putting up enough glamour quotient. Sanjjana is passable but is yet to work on her expressions. Soumya is alright in her limited role. Ahuthi Prasad is fine, Sivaji is alright. Reema Sen is disappointing. Brahmanandam and Thagubothu Ramesh are wasted.
Technical Analysis
Koti's music is loud and the background score music is just mediocre. Cinematography is alright and nothing to boast of. Dialogues are good in parts. Editing is fine and screenplay is pretty ordinary. Director V.N.Aditya once again fails to prove his direction skills with his regular and predictable story. Instead of working on the script, he has relied on the lead star's comic antics, which could not help the final outing.
Analysis
Director V.N.Aditya tried to play safe by making Mugguru as a fun-filled entertainer. However, he seems to be inspired from the movies that has released a decade back. Mugguru reminds you of Sandhade Sandhadi and Sri Rama Chandralu. The story moves on a predictable note which takes away the interest of the audiences. While the first half of the story moves with the dry story establishing the characterizations, the second half is filled with clichés and tests your patience. Mugguru has nothing to offer except a couple of comedy scenes on the whole.
Final Verdict
Old Story Re-told with additional mass-masala elements. Mugguru is not for those who are looking for uniqueness and freshness.