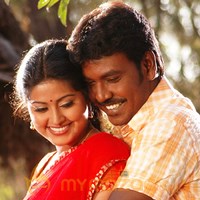 Pardhu Review
by

MyMazaa.com
---
A commercial entertainer targetting front-bencher is €˜Pardhu€™. It has comedy, action and romance to lure the B and C audience. With Larencce oozing the right energy and Sneha and Namitha filling up the glamour quotient, €˜Pardhu€™ turns out to be an entertainer that is worth a watch.
However the story line is wafer thin. It is a cliched and oft-repeated in Telugu cinema. A youth, who is ridiculed by his family for being callous and not caring, eventually turns out to be a responsible son taking care of the entire family.
Director Rasu Madhuravan deserves a pat for not making a serious film though he has tried to showcase on mother-son sentiment towards the second half.
Pardhu (Larencce) does menial jobs in Dubai and saves every penny he earns and sends it to his family in Usilampatti. A flashback reveals that he was a carefree youth, who is often chided by his father (Nazar). His elder brother (Sreeman) is the blue-eyed boy of his father. However Pardhu's mother (Saranya) showers all her love and affection on him. Pandi comes across Sneha, a cop€™s daughter in the village and after a sequence of events romance blossoms between them. Meanwhile his family receives a shock as just a couple of days before Pardhu's sister's wedding, Sriman runs away from the house with the money kept for the wedding.
A dejected father is consoled by Pandhu, who borrows money from a private money-lender and completes the wedding. Meanwhile, Sneha walks out of the house to enter wedlock with Pardhu.
Determined to payback the loan and help his family overcomes their financial constraint, Pardhu decides to go abroad and work as conservancy staff. He manages to stabilize his family with his earnings. However on his return he is shocked to find his mother dead. Coming to know that it was no natural death, he decides to avenge the killers. Did he succeed in his mission forms the climax.
Interestingly Telugu cinema has seen such storyline in the early 1980s itself. Madhuravan has taken one such and treated it with a swift screenplay. Larencce carries the entire burden in his shoulders and deliver his best. He dances, romances and does comedy with style.
Sneha surprises everyone oozing glamour. Known for playing homely roles, she has decided to go for a skin show. It's a typical Namitha in €˜Pardhu€™ who appears in skimpy costumes for a couple of songs and disappears. Nazar and Saranya impress in their roles. Ganja Karuppu, Sriman and Illavarasu are adequate.
Srikanth Deva's songs are loud and the remix Masimasam Alanna....is picturised in a glamorous way on Sneha and Larencce.
All said, €˜Pardhu€™ is a masala entertainer that keeps the audience engaged.
Cast: Ragava Larencce, Sneha, Namita, Nazar, Sharanya, Ganja Karuppu, Sriman, Izhavarasu, Rajkapoor, Mayilsamy
CREDITS:
Music €" Srikanth Deva, Producer €" Manyam Ramesh, Story, screenplay and direction €" Rasu Madhuravan.
Banner: Manyam Entertainments
Released on: May 23, 2008