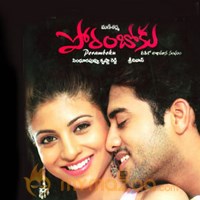 Poramboku Review
by

MyMazaa.com
---
'Sindhura Puvvu' producer Krishna Reddy brought out 'Poramboku' with young hero Navadeep. Mumbai girl Ekta Khosla was given an opportunity to play the female lead. Though Srinivas directed the film, he failed to get a free hand on the film, as the story and screenplay were provided by the Tollywood Talkies unit. At a time, when many new ideas are coming up on the silver screen, a hero, basically from rural backdrop going to nearby city to achieve something, and falling in love with a girl there and winning her love as well as his life ambition looks trash. Even if you narrate this story to a routine viewer of films, he will simply give the same reply.
Karthik's (Navadeep) father (Dharmavarapu) always keeps him chiding that he is becoming a useless fellow. In fact, Karthik has a life ambition to become a film hero as his mother, during his childhood claimed that he was like a hero. As his mother dies in his childhood, Karthik's sister brings him up like mother. Karthik wants to join in a Film Institute but he has to pay Rs 1 lakh towards the fee. Accidentally, Chaitra (Ekta Khosla) reaches their village claiming that she was planning to do a telefilm. As she is rich, Karthik and his friends (Satyam Rajesh and Suman Setty) try to cash in on the opportunity. Chaitra's foster mother (Vadivukkarasi) comes to know that she is in Dosakayalapalli and sends goons. But, Chaitra escapes from the place without any notice to Karthik. Finally Karthik reaches Hyderabad with the help of his sister and meets Chaitra in a dramatic turn of events. Karthik starts his efforts and finally gets the chance as a hero in a film. Again the goons attack Chaitra and try to whisk her away only to get saved by Karthik. Chaitra reveals her flashback. Her foster mother who brought her up plans to snatch her property by getting Chaitra married to her brother Satti. When Karthik was about to face the camera, that woman demands Chaitra. But Karthik categorically tells her that he is in love with her. Though Chaitra decides to sacrifice herself to make Karthik a winner, she could not hide her love. Finally Karthik wins her love and Chaitra's foster mother realizes her folly. The film ends on a happy note with Karthik becoming a hero.
Navakanth performed well in action scenes as well as sentimental scenes. The highlight of the film is the parody to Chandramukhi. A couple of songs were romantic. Jawahar Reddy's cinematography is an asset during the canning of songs. Comedy by Raghubabu, MS Narayana are routine. However, the poor story, wishy-washy screenplay turned major drawbacks for the film. Another major minus is the heroine. She had neither a good physique, nor glamour. The characterization of Vadivukkarasi is also not up to the mark. Navadeep despite having ability to perform failing in selecting good subjects. He also has to improve the body language further. Manisharma music failed in mass appeal. None of the songs are worth foot tapping.
Cast: Navadeep, Ekta Khosla, Vadivukkarasi, Dharmavarapu Subrahmanyam, Brahmanandam, MS Narayana, Ali, Kondavalasa Lakshmana Rao, Satyam Rajesh, Suman Setty, Raghubabu, Lakshmipati, Gundu Hanumantha Rao, Venumadhav, Narsing Yadav, Kavita, and others.
Credits: Dialogues €" Ramesh Gopi, Camera €" Jawahar Reddy, Editing €" KV Krishna Reddy, Music €" Manisharma, Action €" Ram-Lakshman, Story, screenplay €" Tollywood Talkies, Presents €" Putta Sudarshan Reddy, Producer €" 'Sindhurapuvvu' Krishna Reddy, Direction €" Srinivas.
Banner : Tollywood Talkies
Released on : January 26, 2007