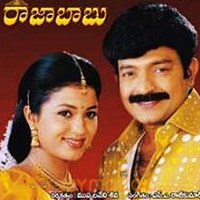 Rajababu Review
by

MyMazaa.com
---
If a film does well in one place, it doesnt mean that it will do well in other places too. And Raja Babu is a good example of this. Malayalam film Balettan did very well at the box office but its Telugu remake with a new title Raja Babu is bound to go to the doom. Now, Rajasekhars prowess in remake films is under question, as all his recent remakes have not done well. Raja Babu is likely to increase the number of failures. It has simple story and there is nothing new in it.
Parandhmayya (Vijaykumar) tells his dutiful son Rajababu (Rajasekhar) on his deathbed that he has another family elsewhere, who also needs help. So, Rajababu sets out to help the other family keeping everything under wrap. But it creates problem in his family. The rest of the story is on how he unites and solves the problem amicably.
The film is sugarcoated and its hard to believe. Too much of emotion has also spoiled the beauty of the film. Rajasekhar is good as an actor but characterization has let him down. Sri Devika is the saving grace of the film. Her performance is commendable. Kovai Sarala and Brahmanandam have succeeded in exposing the laughter veins of the audience. Sarada plays emotional role in the film and Harika too has given justice to her role.
S A Rajkumars music is not that impressive and the camera work is no different. Director Muppalaneni Siva has failed to grasp the pace of modern film. There is nothing special in the film. In short, it is a bore.