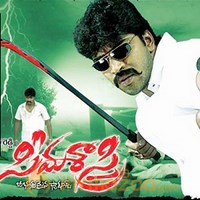 Seemasastry Movie Reviews
Seemasastry Review
by

MyMazaa.com
---
We have seen some heavy-duty action films based on Rayalaseema factionism. So, the makers have attempted to tone the action a bit and in turn give it a comic touch in keeping with what the audience would expect from Allari Naresh film.
The film starts off with Subrahmanya Sastry (Naresh) falling in love with Surekha Reddy (Farzana), who happens to be the daughter of a leading Seema factionist Peddi Reddy. Like all of Rayalaseema, Peddi Reddy too wants to get his daughter married to a young faction leader. However, knowing the facts, Subrahmanya Sastry and his family enter Peddi Reddy€™s house as fake factionists. Will the love story end happily and how the young lovers manage to make Peddi Reddy agree to their wedding forms the crux of the rest of the film.
Allari Naresh is as good as ever. He tries to do action too along with comedy and comes out well. Farzana is good in dances. Jayaprakash Reddy does his role with ease. AVS€™s Brahmin slang is very interesting. Though the film has an item song by Mumaith Khan, it is not exactly the highlight of the film.
Though it€™s not a very big budget film, it feels like a huge budget film. The director G Nageswar Reddy should have incorporated more comedy to make it more enticing. Then, there are the action sequences by Ram-Laxman and Raju that are very good. The LA scene is especially good. Music by Vandemataram Srinivas is good. He tried a remix of the megastar song with Taal music and has done a really good job.
'Seema Sastry' is the kind of film that will appeal to you if you leave all logic behind. The first half is full of comedy and the second half has enough punchlines to keep the audience in splits. But don€™t have too many expectations and chances are that you may not be too disappointed with this attempt at making showing factionism in a lighter vein.
Cast: Allari Naresh, Farzana, Jaya Prakash Reddy, Ali, Brahmanandam, MS Narayana, LB Sriram, Mumait Khan, Kovai Sarala, Raghubabu and others
Dialogues: Marudhuri Raja
Music: Vandemataram Srinivas
Cinematography: S Arun
Action: Vijay, Ram laxman and Raju
Art: Babji
Editing: Ramgopal Reddy
Producer: Chavali Ramanjaneyulu
Screenplay and directed by: G. Nageswara Reddy
Release date: November 16, 2007