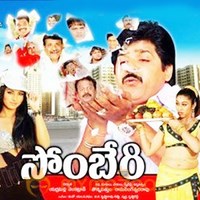 Somberi Review
by

MyMazaa.com
---
Ali, who entered the film industry as a child artiste, turned a comedian and made the audiences laugh heartily with his performance in various films. Noticing the spark in him, director SV Krishna Reddy gave him a chance and made him hero. He also had some hits like 'Yama Leela' to his credit as hero. However, he continued his career as comedian by playing hero at every opportune time. In the backdrop of many comedians turning heroes these days, Ali also got a chance to play hero again and the story is like a tailor-made for him. Writer Jonnavittula tested his hand as director through this movie with a good subject which aimed at giving a good message to the society that hard work will always pay and tells everyone that nobody should be sombre and lazy.
Sombabu (Ali) is a nonchalant boy who whiles away his time with friends. He does never bother to do some useful work though he is very intelligent and had the ability to do anything. Being a lazy boy, two village elders (Jayaprakash Reddy and Jeeva) grab his property like land and a mangrove and also eyes the land which remained with him. Once Rohini (Ruksha), the daughter of a builder (Dharmavarapu Subrahmanyam) goes to Srikakulam and Movva in Konaseema region for a project report on historical temples and sites. Sombabu falls in love with Rohini. In order to grab the remaining property from Sombabu's parents, the village elders hatch a plan to drive away Sombabu from the village and implicate him in a temple theft case. At this juncture, Sombabu proposes to Rohini and the latter refuse him saying that he is a fit-for-nothing fellow and also a thief. Somehow, Sombabu gets acquitted and gets out of jail. When he was in the jail, he realises that he should work hard by shedding his laziness and prove himself. Incidentally, he gets a job in Rohini's father's office. How Sombabu proved that he is not just a useless fellow and how kind at heart he was? What kind of concern he had with his friends and well-wishers? How he was able to win the heart and love of Rohini farm part of the climax.
Ali performed excellently in his role. His character was etched well. The director was able to maintain good shades in his character, as a wayward boy and as a hard worker who realised his mistakes. He mixed good comedy in the character and elevated the real heroism in him during climax. Ruksha was a minus as a heroine. Being a novice, she failed to deliver any kind of performance. Though looked glamorous, she could not perform even in a couple of scenes which she was supposed to. Srinivasa Reddy and Duvvasi Mohan, played the sidekicks of the hero. Dharmavarapu Subrahmanyam did justice to his role by maintaining good dignity. Comedy by MS Narayana was good and hilarious. Tanikella Bharani, Jayaprakash Reddy, Jeeva, Benarjee and others are okay in their roles. Once again, Paruchuri Gopalakrishna appeared as a politician. His dialogues on political system were heart touching.
Behind the screen, Mano, who had a good experience as a singer, turned music director. However, he gave traditional and routine music but did not go for any experiments and fast beat songs. However, two songs in the film penned on social cause were good both in terms of lyrical value and their tuning was also good.
Camera work by MV Raghu is okay. He captured the skyscrapers and beauties in Dubai well. However, the picturisation of songs was routine with not much camera work.
Editing by GG Krishna Rao should have been a little crispier further. As far as the movement of the story, the writer turned director, being a novice failed to maintain good tempo and the movement of the story was not at a steady pace. Once the scenes move faster and at times turn dead slow.
The director failed to establish certain scenes like how a boss takes an attender to Dubai along with his daughter. How, the hero's friends reach Dubai, who have not even a penny in their pocket. Though the character played by MS Narayana provided good comedy, it has no relevance to the story and the link was not properly established.
In fact, the character was kept only with a view to end the story well in the climax. The release of the hero from the jail was also not moulded on the screen well without any scenes of court proceedings. Even though the movie could be a pastime film, the ambiguous pace / movement of the film tested the patience of audiences.
Cast: Ali, Ruksha, Dharmavarapu Subrahmanyam, Tanikella Bharani, Duvvasi Mohan, Srinivasa Reddy, Babloo, Sudarshan, Potti Rambabu, Sivareddy, Raja Ravindra, MS Narayana, Jayaprakash Reddy, Jeeva, Neha Pendse and others.
Credits: Music €" Mano, Camera €" MV Raghu, Editing €" GG Krishna Rao, Producer €" Yerramilli Venkat Rao, Story, screenplay, dialogues, lyrics and direction €"Jonnavithula Ramalingeswara Rao.
Banner: Raosen Films
Released on: June 07, 2008