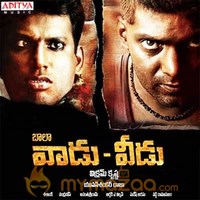 Vaadu Veedu Movie Reviews
Vaadu Veedu Review
by

MyMazaa.com
---
Story
Voter (Vishal) and Dandam Saaru (Aarya) are stepbrothers. They were born in the family of thieves. While Voter could not tread the path of his elders, Dandam Saaru masters his family's tradition. Highness is the zamindar of the village.
Once, a judge loses the key of his locker, where he kept some important documents. On his request, a police officer brings Voter, but he could not open it. Later, Dandam Saaru goes to the house and easily opens it. At this phase, love blossoms between Voter and constable (Janani Iyer) and Dandam Saaru falls for a student (Madhu Shalini). Though Voter and Dandam Saaru like each other, they pretend quarrelling with each other.
At this juncture, Highness finds some cattle being transported in lorries and questions the driver, where they were being taken away. They reveal that they are being shifted to abattoir. Being a kind-hearted man, he calls up the media, officials and the Blue Cross people and gets the man arrested and frees the animals. What happens next should be seen on-screen.
Performance:
Vishal, who is known as an action hero, has shed his inhibition for his role in the film. Nobody would have expected that Vishal could actually perform such a tough character. Credit should go to Bala, who noticed the spark in him and roped him for the lead role. Aarya, who is well-known among the Telugu audiences for his role in Varudu and who came up with films like Nenu Devudni and Nene Ambani, has done justice to his role. Madhu Shalini and Janani Iyer are adequate. Rest other characters are okay.
Technical:
The entire film is made in a village atmosphere. Arthur A Wilson has picturised the action scenes and songs well. He has captured the emotions, feelings and expressions perfectly with his camera eye. Editing by Srikara Prasad is adequate. Yuvan Shankar Raja has given mass tunes that suit the taste of Tamil audiences and the Telugu audiences may not like such loud noises. GK Film Corporation owned by Vikram Krishna has produced Telugu version, whereas AGS Entertainment produces Avan Ivan. Finally yet importantly, it is Bala should be complimented for his efforts in bringing out the film.