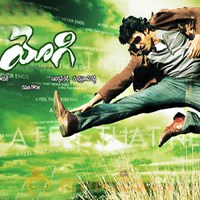 Yogi Review
by

MyMazaa.com
---
VV Vinayak is known for directing good action-oriented films and 'Yogi' is the latest from his school. It is the remake of Kannada hit film 'Jogi' which has mother sentiment in its backdrop. It seems sentiment has become the hot topic these days. The directors follow the trend though unintentionally, as there are many films with sentiment in their backdrop. While, Raakhi and Annavaram are based on sister sentiment, 'Yogi' has mother sentiment.
Eswara Prasad (Prabhas) stays in Bethamcharla in Kurnool district and is being pampered by his mother Santamma (Sarada). Prasad leaves for city in search of a job, but gets caught in the hands of land mafia unknowingly. Prasad saves one Kotaiah (Kota Srinivasa Rao), who leads one of landsharks in the city, when he was attacked by the other group led by Narsing Pahilwan (Pradeep Rawat) and his brother Saidulu (Subbaraju). So Narisng decides to eliminate him. In the process, Narsing insults his mother by stamping the golden bangles meant for Prasad's brother. Irked over this, Prasad kills Narsing. A tea stall owner Chandranna (Chandramohan), who gave him employment in the city, gives him the name of Yogi while securing his release from police. In this backdrop, Santamma reaches Hyderabad in search of her son and stays with a journalism student called Nandini (Nayanatara). Prasad's friend Basha (Ali) who meets Santamma takes her to a temple to unite the mother and son. Yogi fails to visit the temple and Santamma dies while waiting for her son at the temple. While Santamma's body is being taken to crematorium, Yogi reaches the place and joins the funeral procession but could not realize that it was her mother. He realizes the truth only after it is moved into the fire cabin, through Basha and Nandini. The film ends with tragedy as Yogi fails to see his mother again after he comes from his village.
Prabhas did justice to his role with good ease in action scenes and the sentiment scenes as well. Especially he gave superb performance in the climax. Nayanatara restricted to glamour role and only had a couple of duets with the hero. It is Subbaraju who needs complements for giving an aggressive performance as villain. Pradeep Rawat is okay as villain. Action by Vijayan and the cinematography by Sameer Reddy are good. Despite all this, the film lacked the punch that was visible in Vinayak's films. It looks as if he tried to follow the original film and pushed back his own screenplay. In fact the flavor of Vinayak's direction is missing with the screenplay is shoddy. The 'taking capabilities' of Vinayak are missing, giving a doubt whether it was done by Vinayak or not as the entire concentration was focused on boosting the image of Prabhas alone. While the following the original, Vinayak might have kept his inherent skills in the cold storage, which resulted in poor narration of 'Yogi' and left it with an average mark. However, the comedy track in the film is good in Venumadhav character while that is on Sunil is poor as Aparichitudu kind of action has become a laughing stock these days.
Cast : Prabhas, Nayanatara, Sarada, Kota Srinivasa Rao, Pradeep Rawat, Subbaraju, Ali, Venumadhav, Sunil, Chandramohan, Chalapati Rao, Rajan P Dev, MS Narayana, Prasannakumar, Uttej, Melkote and others.
Credits : Story €" Prem, Dialogues €" Rajendrakumar, Cinematography €" Sameer Reddy, Editing €" Gouthamraju, Action €" Stun Siva, Music €" Ramana Gogula, Re-recording €" Gurukiran, Presents €" Ravindranath Reddy, Producers - P Chandrapratapa Reddy and P Sudarshan Reddy, screenplay and direction €" VV Vinayak.
Banner : Eswari Films Pvt Ltd.,